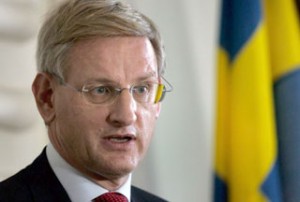 The European Union accuses Israel of trying to create a rift in the Union to prevent an EU resolution on Jerusalem Al-Quds.
The EU warned Israel on Thursday that it should stop playing its "divide and rule" policy with the 27-nation bloc over the Union's adoption on Tuesday, stating that Jerusalem Al-Quds should be the shared capital of the future Palestinian state and Israel.
Israel, which captured the eastern half of the city in 1967, reacted very strongly after the new resolution was passed. Palestinians want east Jerusalem Al-Quds as part of a future independent state.
An EU official said on Thursday that Israel had lobbied intensively for European foreign ministers to dilute an earlier draft proposed by Sweden — who currently holds the EU's rotating presidency — which explicitly stated that east Jerusalem Al-Quds should be the capital of a Palestinian state.
Israel's Foreign Minister Avigdor Lieberman said on Wednesday that Sweden wants to present the EU declaration as its achievement before that country's six-month term as the EU president ended.
Swedish Foreign Minister Carl Bildt shot back on Thursday saying that Israel should cease from trying to divide the bloc. "We have been very concerned by developments in Jerusalem Al-Quds," he said.
Israel should not "think that a relationship with Europe is divide and rule," he stressed.
Tuesday's decision demonstrated that the EU was a "cohesive and clear force" on global issues, including the Middle East, Associated Press quoted him as saying.
Bildt told lawmakers that the EU would meet on Friday with Palestinian Authority representatives, but that Israel has been unwilling to schedule a similar meeting.