Europe
EU leaders agree to relocate 40,000 migrants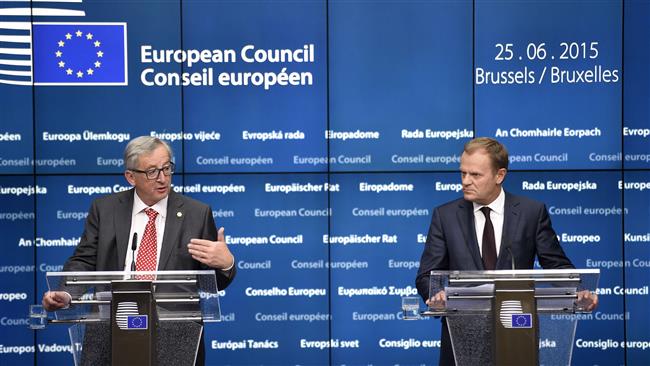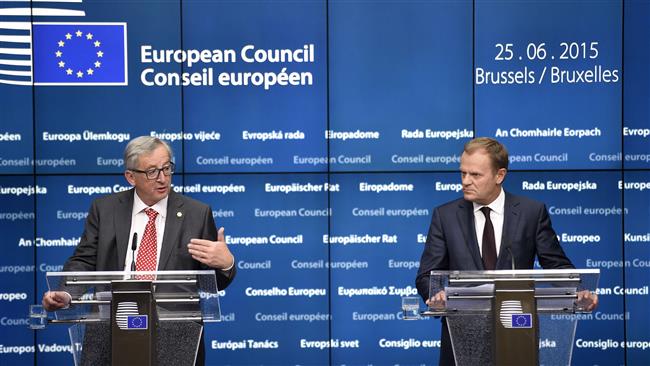 European Union (EU) leaders have agreed to the relocation of tens of thousands of migrants who have arrived in Italy and Greece.
On Friday, the European leaders agreed to relocate the migrants to other EU nations, during a two-day summit in Brussels.
"Leaders agreed that 40,000 persons in need will be relocated from Greece and Italy to other states over the next two years," Donald Tusk, the European Council president and summit chairman, said.
Tusk added that the EU interior ministries would finalize the plan by the end of next month.
Under the agreement, there will be no mandatory quotas for each nation.
The leaders also agreed to resettle an additional 20,000 refugees from outside the EU.
The UK has decided not to take part in the redistribution plan, while countries in Eastern Europe have refused fixed quotas.
Migrants wait to disembark from a military ship on May 5, 2015, in the port of Salerno, southern Italy. (AFP Photo)
This year, over 120,000 people have reportedly put their lives at risk by crossing the Mediterranean and entering Europe. A great proportion of the migrants arrived in Italy, Greece, and Malta.
According to the UN refugee agency, UNHCR, 63,000 migrants have arrived by boat in Greece and 62,000 in Italy so far this year.
Earlier this week, United Nations High Commissioner for Refugees Antonio Guterres called on the EU to prioritize the protection of migrants, after the bloc approved anti-trafficking military operations in the Mediterranean Sea.
European leaders began the work on an agreement plan aimed at tackling the crisis during an emergency summit in April, after as many as 900 people were killed in the deadliest known shipwreck so far of Africans trying to make it to European shores.
Nearly 2,000 migrants have died at sea so far this year.