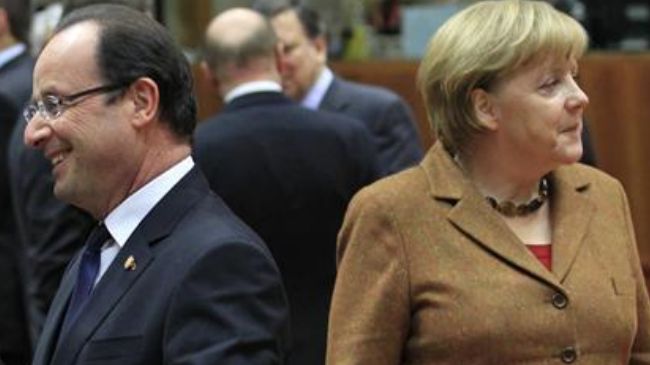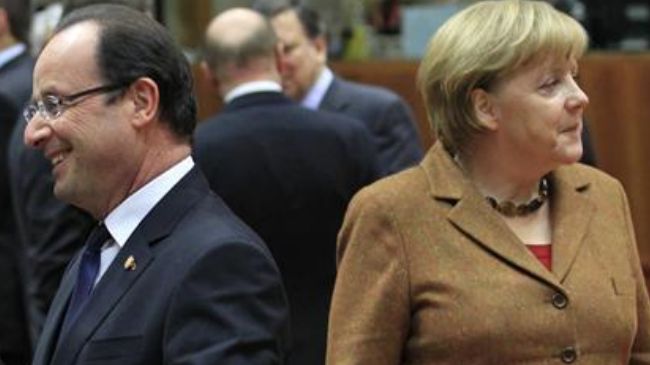 The European Union (EU) leaders have expressed doubts about reaching an agreement on the nearly one-trillion-euro budget of the bloc for the period of 2014-2020.
On Thursday, the EU began a two-day meeting on the budget period of 2014-2020 in the Belgian capital, Brussels. The talks, however, were suspended shortly after midnight until Friday noon (1100 GMT) due to disagreements on the need for spending cuts.
German Chancellor Angela Merkel told reporters, "I think we're advancing a bit, but I doubt that we will reach a deal."
French President Francois Hollande also cautioned that it looked unlikely that the EU negotiators would reach a deal and said, "It's what everyone has in mind."
The first round of negotiations followed a day of face-to-face meetings between European Council President Herman Van Rompuy and each of the EU leaders.
Most EU member states support an increase in the budget, but several countries, including the UK, oppose a rise in the EU spending plan.
Meanwhile, Van Rompuy circulated a new draft proposal for the budget, aiming to take into account the 27 different points of view of the EU members.
The proposal reintroduces an earlier figure of 972 billion euros in spending, which amounts to 1.01 percent of the total economic output of the European Union.
Europe plunged into financial crisis in early 2008. The worsening debt crisis has forced the EU governments to adopt harsh austerity measures and tough economic reforms, which have triggered incidents of social unrest and massive protests in many European countries.