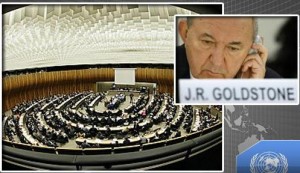 The European Parliament voted on Wednesday to monitor Zionist and Palestinian investigations into alleged war crimes in Gaza and to support the recommendations of a UN investigation into the matter.
The motion passed 325 to 287 with 43 abstentions. According to the resolution, the parliament "urges both sides to conduct investigations within five months that meet international standards of independence, impartiality, transparency, promptness and effectiveness."
The parliament also called on the EU's 27 member states to monitor the investigations. It also asked the EU's high representative for foreign affairs and security policy, Catherine Ashton, to report back to the body on the issue.
Significantly, the motion also endorsed the report of a UN fact-finding mission led by judge Richard Goldstone, which found evidence of war crimes in the aftermath of Zionist entity's three-week attack on Gaza in 2008 and 2009.
Some 1,400 Palestinians and 13 Zionists died in the Gaza war. Goldstone's 575-page report called on Zionist and Palestinian authorities to investigate war crimes charges. If they failed to do so, the report asks UN bodies to act to bring accused war criminals to justice.
After tasking Secretary-General Ban Ki-moon with evaluating Zionist and Palestinian investigations of war crimes, the UN General Assembly in February gave a 5-month extension for the local probes to proceed. Both the Zionist military and the Hamas government in Gaza say they investigated the allegations, but so far neither side has charged anyone with significant wrongdoing.
The European Parliament's resolution endorsed the recommendation of the Goldstone report, saying it "Reiterates its call on the High Representative of the Union for Foreign Affairs and Security Policy and the Member States to work towards a strong EU common position on the follow-up to the report of the Fact-Finding Mission led by Judge Goldstone on the conflict in Gaza and Southern Zionist entity, publicly demanding the implementation of its recommendations and accountability for all violations of international law, including alleged war crimes."
On Tuesday Zionist entity announced that it plans to allow Ashton and Ban into Gaza in the coming weeks. Zionist entity routinely bars foreign officials from visiting the besieged territory.