Europe
Iran
World News
Europe Held Hostage to US Unilateralism: Iranian Official
Secretary of Iran's Supreme National Security Council Ali Shamkhani urged Europe to stand against the US and not allow its sovereignty to be held hostage to Washington's unilateralism.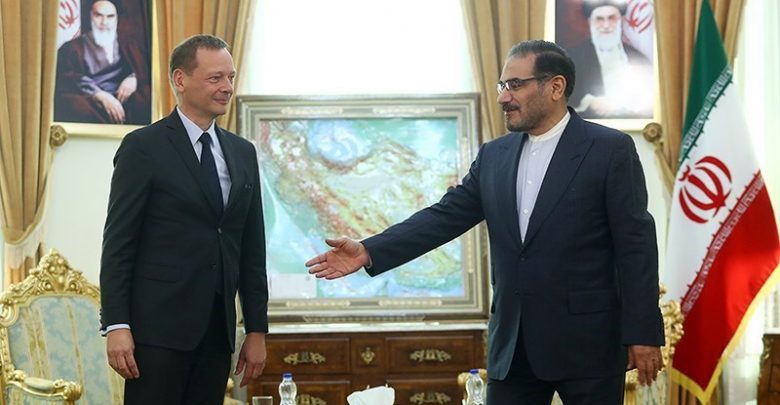 "Today, the US has held Europe's independence hostage, and the European Union states must stand against the US unilateralism to defend their identity and independence," Shamkhani said at a meeting with French president's top diplomatic adviser, Emmanuel Bonne, in Tehran on Wednesday.
The Iranian official also criticized the EU countries for their inaction in honoring the Joint Comprehensive Plan of Action (JCPOA) and their insufficient determination to counter the US destructive policies on the multilateral nuclear deal.
"The era of carrying out one-way measures is over," Shamkhani added, warning the EU countries that Iran is no longer going to implement the JCPOA unilaterally.
He further described the US policy of maximum pressure on Iran as a failed strategy, stressing that it is impossible to talk to Iran with the language of force.
For his part, the French envoy said he is in Iran not as a mediator and carries no message from the US.
Bonne also noted that Iran's power, influence and position in the regional and international equations have grown remarkably over the past 20 years despite the US opposition.
He added that French President Emmanuel Macron seeks joint initiatives for a ceasefire in the US economic war against Iran.
The French diplomat also voiced Paris' willingness to continue interaction with Iran, given its undeniable role and influence in the region, in order to address the crises in Syria, Yemen, Iraq and Lebanon.
In May 2018, US President Donald Trump pulled his country out of the JCPOA.
Iran and the remaining parties launched talks to save the JCPOA after the US withdrawal, but the three EU parties to the deal (France, Britain, and Germany) have failed to ensure Iran's economic interests.
The EU's inaction forced Tehran to stop honoring certain commitments to the nuclear deal, including a rise in the stockpile of enriched uranium.