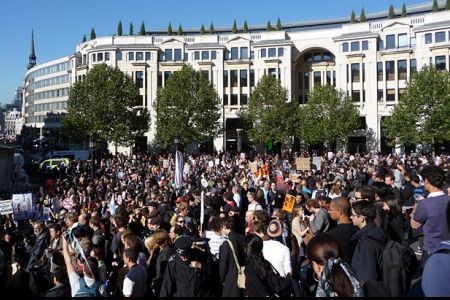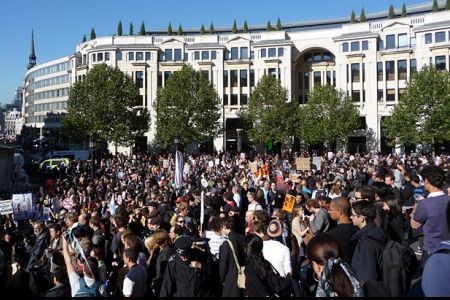 Occupy London Stock Exchange protestors have started their second camp in the British capital in a warning to officials that the movement is rapidly overflowing into other parts of the city.
The paradigm for the British movement was the Occupy Wall Street campaign that used "the revolutionary Arab Spring tactic" of assembling people to restore democracy in the US. It grew from a rally in New York's Wall Street area on September 17 to the present huge anti-capitalist movement in the US and across the globe.
That is now being copied in London as Occupy LSX demonstrators have called for a second "general assembly" at Finsbury Square EC1 just seven days after they staged a hundreds-strong sit-in outside St Paul's Cathedral.
Over a hundred tents have been set up at the cathedral and more protestors have been joining in over the week raising the initial numbers to an estimated 2,000 on Saturday.
As the rally gained force, a group of 400 took up placards to march to Finsbury Square where another 30 tents have sprung up by activists.
"Our mission continues. We are delighted to announce that our second site of occupation is now open and ready to receive happy campers. 400 people are already creating a radically open democratic space at Finsbury Square EC1," Occupy LSX said in a statement, calling on everyone to join the protestors at the new site.
Organizers have made it clear that the Finsbury Square rally will not replace the original protest camp at St Paul's, stressing "we shall be occupying Finsbury Square in addition to St Paul's Churchyard."