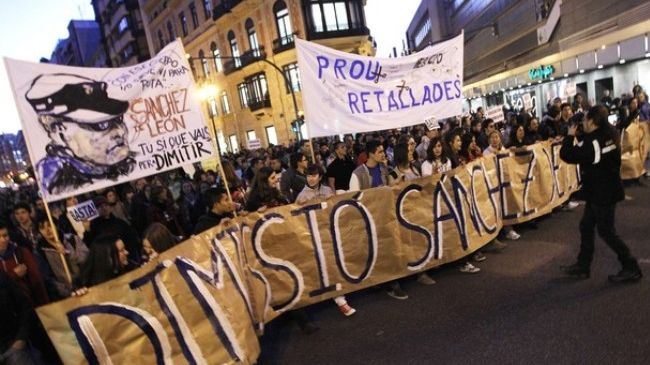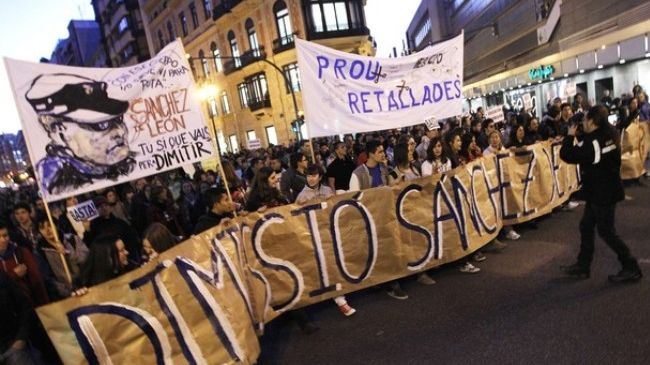 Thousands of Spaniards have poured onto the streets in the city of Valencia to protest against police brutality and education spending cuts.
The protesters on Wednesday marched behind a large banner that read, "We are the people, not the enemy" during the fifth day of demonstrations against the police violence and the budget cuts in central Valencia as a police helicopter flew overhead.
On Monday, baton-wielding riot police charged a protest against the budget cuts, beating the demonstrators and leaving several people bleeding. Dozens of others, including minors, were arrested.
During the Wednesday rallies, the demonstrators demanded the removal of the central government's representative to the city as they marched from the Lluis Vives high school, the site of Monday's violence.
They were also holding placards, reading, "Enough!" and "They make cuts to education to steal from us more."
Tuesday protests in the city were joined by thousands of students and other activists. Spaniards also staged anti-government demonstrations in several other cities, including Madrid, Barcelona, and Seville.
Anger over budget cuts that have left Spanish schools short of heating facilities has sparked mass street protests.