Middle East
Ex-Israel premier convicted of impeding justice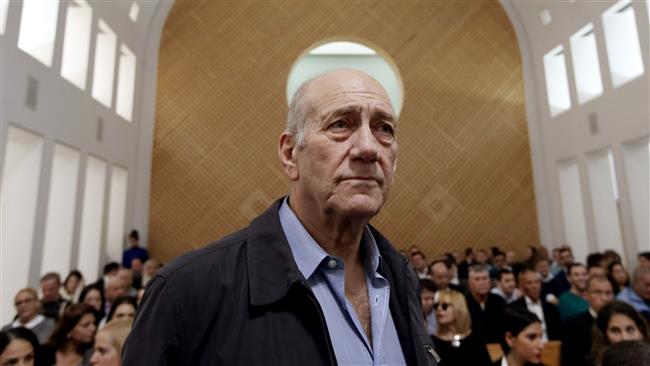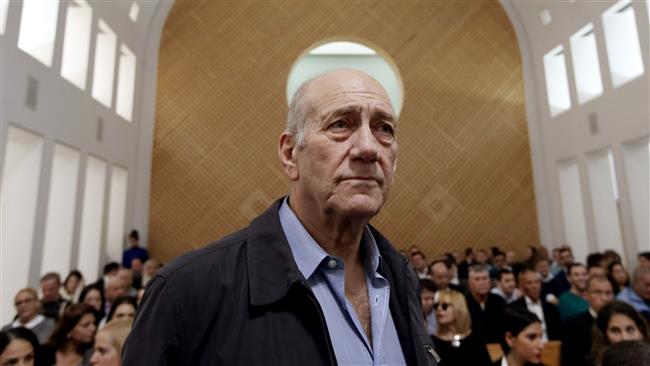 An Israeli court has convicted former Prime Minister Ehud Olmert, who is to start serving jail term for bribery, on two counts of obstruction of justice.
The Jerusalem Magistrates Court's ruling came after Olmert pleaded guilty to pressuring a confidant to not testify against him in several cases of bribery and corruption.
Olmert made the confession as part of a plea bargain, which required him to confess to the charges in return for the six-month imprisonment for those felonies being served concurrently with a separate 18-month prison sentence he already received over the bribery scandal.
Judge Avital Chen, however, said that "the court was not committed to the arrangement" of the bargain plea, adding, "The default would be consecutive, not concurrent sentences."
In March 2014, Olmert was sentenced to six years in jail over two separate charges of accepting bribes in the early 2000s to promote a controversial real estate project in al-Quds (Jerusalem).
Last December, however, Israel's Supreme Court commuted the sentence to 18 months in jail.
Olmert is scheduled to report to prison on February 15.
In January, a survey conducted for Israel's Channel 2 found that the majority of Israelis believe there is widespread corruption among officials of the regime in Tel Aviv.
Some 72 percent of the respondents said they believe Israeli officials are corrupt, 16.9 percent said Israel is a very corrupt entity and 55.7 percent classified it as rather corrupt.
In recent years, many high-ranking Israeli officials have been caught in graft scandals.
In the latest case, the wife of Israeli Prime Minister Benjamin Netanyahu was questioned by police over inflated household spending.