Lebanon
Ex-Lebanon pres. urges reconciliation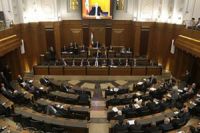 A former Lebanese president has called for national reconciliation to end a deadlock over picking the country's new president.
According to IRIB, on Thursday, Lebanon's parliament once again failed to hold a session to elect a new president as several lawmakers boycotted the session.
The vote could not be held due to a lack of quorum as lawmakers from the March 8 bloc, led by the resistance movement Hezbollah, and its allies boycotted the voting. It was the fifth attempt to select a replacement for President Michel Sleiman, whose term will end on May 25.
In a Thursday interview with Press TV, Amine Pierre Gemayel, the leader of Lebanon's Kataeb party, called on all political parties to put aside their differences and prevent Lebanon from falling into a crisis.
Gemayel, who served as Lebanon's president from 1982 to 1988 said "We are ready for any reconciliation that protects Lebanon's stability and sovereignty," adding, "We know that some countries in the region and beyond are pursuing their interest in Lebanon."
Any presidential candidate would have to receive the backing of two main political blocs — March 8 Alliance and the rival March 14 Alliance – to win the necessary majority from the legislature's 128 members.
If the parliament fails to elect a president by May 25, a power vacuum will be created in the country.