Syria
Exclusive: Hopeful says presidential election shows Syria getting rid of crisis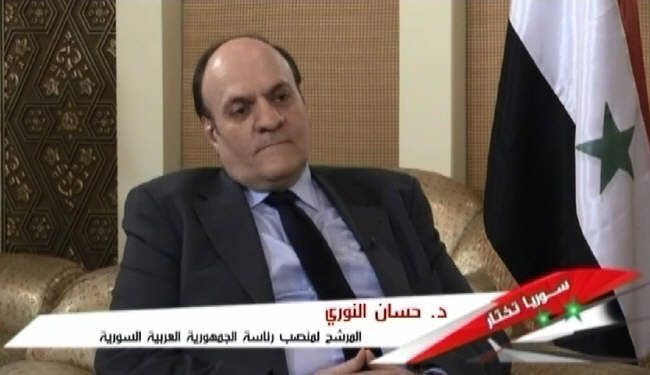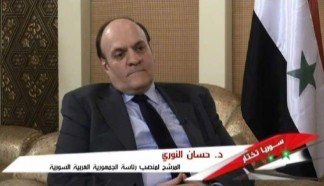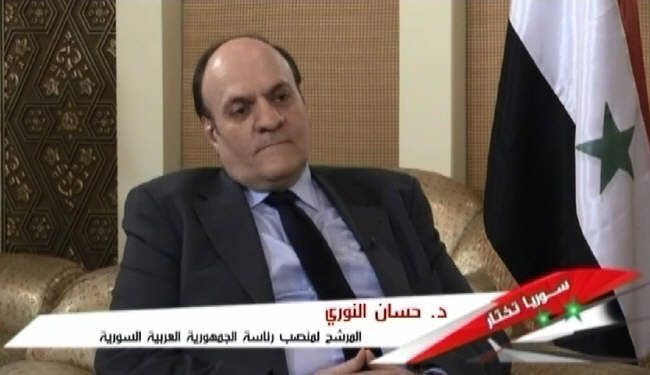 One of the Syrian presidential candidates says the upcoming election would be a proof that the country is leaving the crisis behind it.
"The flow of democracy in the political arena of Syria is a clear evidence that the country is getting rid of its more than three years of crisis," Hassan Abdallah al-Nuri told Al-Alam in an exclusive interview on Monday.
Hoping for holding a "healthy and clear" poll, he noted that a successful presidential election would be a "remarkable achievement" for Syria.
Nuri added that "terrorism" is the main problem of Syria.
"Extremist and Takfiri groups would have no place in Syria," the presidential hopeful stressed.
He also criticized certain Arab countries and Turkey for supporting militants operating in Syria.
The three presidential candidates in Syria, including incumbent President Bashar al-Assad and Maher Abdel Hafiz Hajjar, are pressing ahead with their campaigns as the June 3 election approaches.
The vote will be held in the government-controlled parts of the crisis-hit country. Syrians living abroad are also set to vote on May 28.
Damascus has insisted that it would hold the vote despite the foreign-backed militancy that has plagued the Arab country for more than three years.
Syria has dismissed Western and opposition accusations regarding the presidential election, saying that it is planning to hold a free and transparent vote.