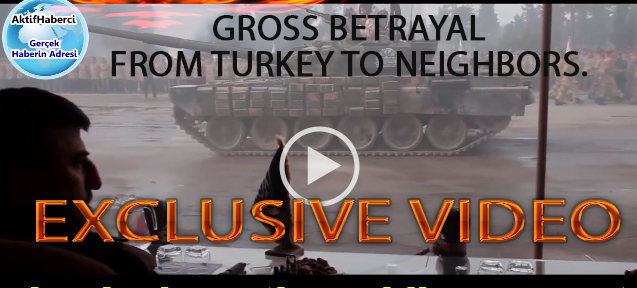 TRAIN- EQUIP- FIGHT- KILL- SLAUGHTER
USA and Turkey present proudly
GROSS BETRAYAL FROM TURKEY TO NEIGHBORS.
Al-Fatah Brigade that has no difference from savage ISIL and other factions pretends to graduate 1,700 terrorists from military training in Damascus.

If this smoke was in Damascus, their location would be identified by Syrian Army, therefore, they use this smoke on purpose to camouflage their location in Turkey.
While US that has millions of soldiers, Israel with hundred of thousands soldiers were/are defeated against Resistance, what can these 1,700 trained terrorists do against Resistance? They will certainly taste a historical defeat as usual.
If this training camp is not in Turkey, then how could these terrorists hide those tanks in Syria? How possible is it?
While Allosh, the leader of 'Islam Brigade', meeting with the Osama Abdolkarem Al-Refai in Istanbul.
Allosh who came to Turkey 2 weeks ago is seen during an inspection of terrorists in Damascus. If this graduation ceremony were in Syria, would he behave so comfortably?
These well- trained good terrorists carried out a massacre in Jisr Al-Shougur 20 days ago, and beheaded Syrian people.
Turkey was the land where the soldiers were trained to fight against West, but today terrorists are trained to guard Israel and to massacre people.
The whole world will witness how these trained-equip-fight terrorists of DAJJAL get a historical defeat in accordance with the Divine Word.