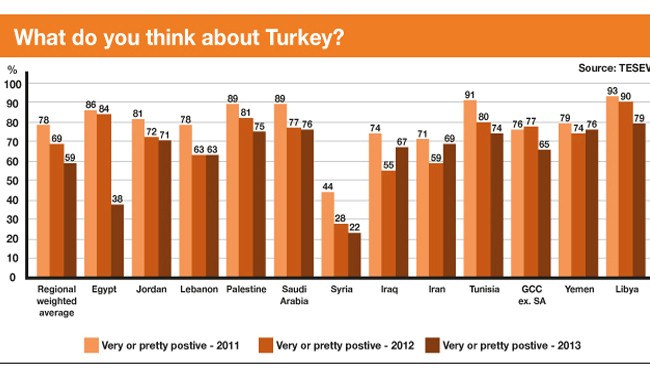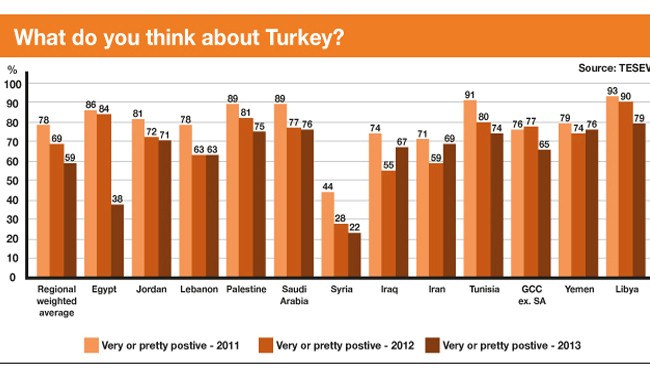 Turkey's popularity in the Middle East and North Africa (MENA) has shrunk over last three years, with particular sharp drops among the Syrian and Egyptian public, a field study conducted by a Turkish think-tank says.
While 78 percent of respondents in the 16 countries subject to the study had a positive view on Turkey in 2011, the percentage declined to 69 percent in 2012 and 59 percent in 2013.
Conducting the research for the fifth time, the Turkish Economic and Social Studies Foundation (TESEV) made phone interviews with 2,800 people in Egypt, Jordan, Lebanon, Palestine, Saudi Arabia, Syria, Iraq, Iran, Tunisia, Oman, Bahrain, Qatar, United Arab Emirates (UAE), Kuwait, Yemen and Libya. Respondents were asked questions on their views on Turkey as well as issues related to the MENA region in general.
In Egypt, Turkey's approval rate was registered as 38 percent in 2013, whereas the same data was 84 percent in 2012 and 86 percent in 2011. Syrians' support for Turkey was 22 percent in 2013, dropping from an already low rate of 28 percent in 2012 and 44 percent in 2011.
Following the July change that overthrew Mohamed Morsi, the former Egyptian president, Turkey's conservative Justice and Development Party government has been an outspoken critic of the new regime, frequently bashing its crackdowns in public statements and expressing support for Muslim Brotherhood-backed Morsi. The countries recently expelled each other's ambassadors.
Similarly, Ankara has stood against the Syrian government in the recent crisis, expressing support for the opposition, harboring thousands of Syrian refugees and letting armed militants using its territory in various ways.
Syria has been gripped by deadly unrest since 2011. The Western powers and their regional allies — especially Qatar, Saudi Arabia, and Turkey — are supporting the militants operating inside Syria.
According to the United Nations, more than 100,000 people have been killed and millions displaced due to the turmoil over two recent years.
The UN also says more than four million other Syrians will be forced out of their homes in 2014 by the escalating conflict in the country.