Iran
Extremism should be contained: Rouhani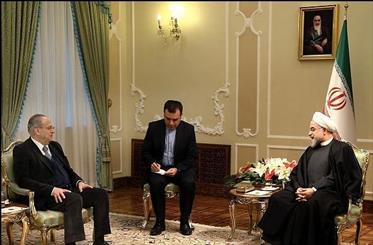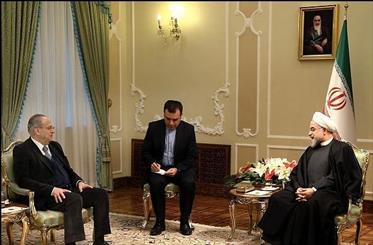 In a meeting with Cypriot FM, President Rouhani slammed violence and emphasized that extremism has to be contained and we should not let it spread in the Middle East and Mediterranean countries.
President Rouhani, meeting with Cypriot Foreign Minister Ioannis Kasoulides, described the Iran-Cyprus relations as historical and based on the great civilizations of Iran and Greece.
He said Iran is looking for closer ties and extended cooperation with EU and Cyprus and asserted that "Iran-EU relations is improving and Cyprus, as a member of this union, can play a more influential role in reinforcing the cooperation between Iran and EU."
Pointing to the conditions and changes in the region, Rouhani said: "The current situation of Middle East and even Mediterranean region needs the countries to cooperate more particularly fighting against extremism, terrorism, and violence."
Stressing on the need to contain extremism and terrorism, he continued "in our beliefs, violence is condemned in any country, and against all nations of any religion and ethnicity. We denounce all terrorist attacks; no matter in Iraq, Pakistan, Afghanistan or Paris, London, Berlin, and Washington."
President Rouhani, pointing to the cultural capacities of the two countries, also stressed the extension of cultural, scientific, and tourism cooperation.
Cypriot FM, for his part, pointed to the closeness of Iran and Cyprus nations and governments and dubbed it "a great opportunity for us to extend the ties further and try to find solutions to relieve from the extremism and violence that is affecting everyone."
Kasoulides, emphasizing on the need to extend economic ties with Iran, stated that 2013 was a terrible year for Cyprus economy and part of it is due to sanctions imposed on Iran as they cause an imbalanced trade.
Pointing to changes in EU policies towards Syria and terrorism, the Cypriot official said "EU is looking for peaceful ways on the issue of Syria and considers the role of Iran in establishing peace and stability."
"One of the important mistakes of Geneva peace conferences was the absence of Iran. Without cooperation of all countries, there will not be a desirable result," he added.
He also asserted that after his return and in his meeting with EU High Representative, he would emphasize on the participation of all countries, without any exception, to achieve peace and stability in the region.