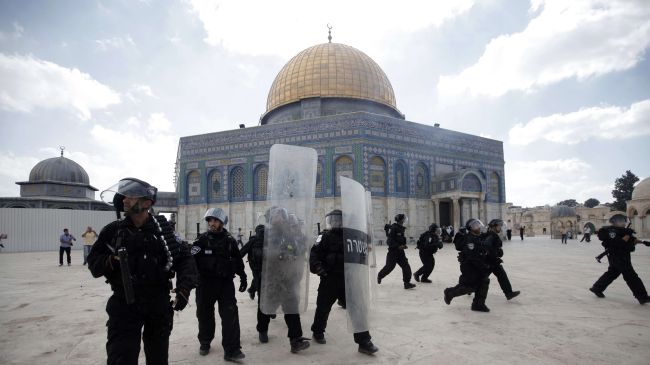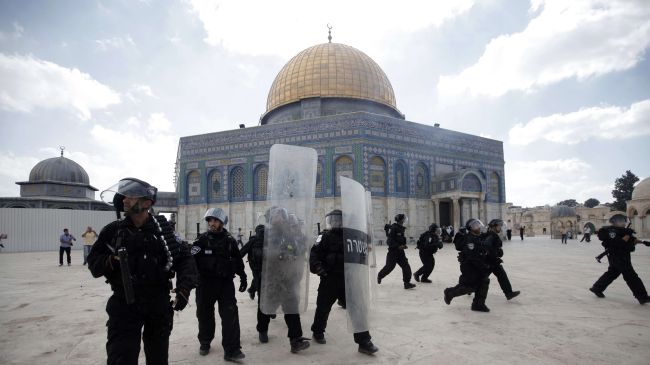 Dozens of extremist Israeli settlers have desecrated the al-Aqsa Mosque in East al-Quds (Jerusalem), which is the third holiest site in Islam, when they stormed the mosque through Bab el-Magharbeh.
Reports say the settlers were led by the extremist Rabbi Yehuda Glick who heads the so-called Temple Mount Heritage Foundation.
The Sunday incident comes after a similar event on October 15, when a number of Israeli settlers stormed the mosque under army protection.
Meanwhile, a report published by the al-Aqsa Foundation in October, said the Israeli regime is planning to build a synagogue in al-Aqsa Mosque compound as part of its efforts to further Judaize the occupied Palestinian territories.
According to the report, which was based on the information leaked from the Israeli Knesset, the plan would divide the compound, taking one-fifth for the Jews in order for them to perform their religious rituals there.
On October 19, Hamas Prime Minister Ismail Haniyeh condemned Israel's efforts to judaize al-Quds and the al-Aqsa Mosque.
Haniyeh also slammed Israel's expansionist policies and the regime's crimes against the Palestinian nation, saying the liberation of Palestine is a national duty.
He called on all Palestinians to act against the expansionist measures of the Tel Aviv regime across the occupied territories, particularly in al-Quds.
Over the past decades, Israel has tried to change demographic makeup of al-Quds by constructing illegal settlements, destroying historical sites, and expelling the local Palestinian population.
Over half a million Israelis live in over 120 settlements built since the 1967 Israeli occupation of the West Bank and East al-Quds. The international community considers the settlements illegal.