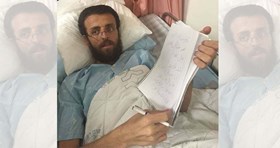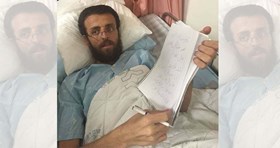 The family of the Palestinian hunger-striker Muhammad al-Qeiq said Friday that their son has gone through a critical health turn in the early morning hours. Al-Qeiq's family said the hunger-striker could not respond to those who were present with him at the hospital room.
Al-Qeiq had earlier told al-Majd TV Channel in a phone interview that he would continue his hunger strike until he restores his freedom. Al-Qeiq expressed his gratitude to the campaign initiated in solidarity with him.
He said the Israeli court rule to freeze his administrative detention while keeping him locked up in Israeli hospitals aim at thwarting the solidarity campaign. Al-Qeiq has been on a hunger strike for the 73rd day. He was arrested from his family home in Ramallah on November 21 and had reportedly been subjected to harsh torture during the investigation procedure, which made him declare his hunger strike.