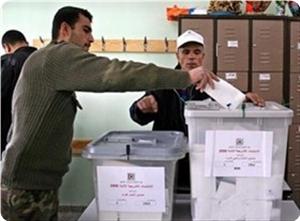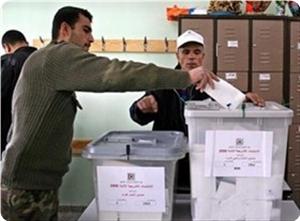 Fatah, the political backbone of the western-backed Palestinian Authority (PA) and party of Palestinian Chairman Mahmoud Abbas, won a difficult victory in partial local and municipal elections in the West Bank.
However, the group's mediocre achievement was marred by a drastically low voter turnout especially in large towns such as Hebron, Nablus and Ramallah where no more than 35% of registered voters cast their votes.
In Hebron, a city of more than 250,000 people, voter turnout reached 33%. According to Akram Natscheh, a local journalist, public apathy was conspicuous in the southern West Bank city.
"We noticed from the very beginning there was a lot of indifference on the part of the people."
Fatah was expected to win 9 seats in the 15-seat council.
Another observer, Iman Qawasmeh, said many people voted for Fatah's list out of clan and family considerations.
"Many voters voted for their relatives not because they were infatuated with Fatah or the Palestinian Authority."
Hebron is largely considered an Islamist stronghold. Hamas boycotted the elections, citing the absence of civil liberties and true democracy in the West Bank. The PA security agencies have been arresting pro-Hamas activists.
Hamas is also worried that Israel would arrest Hamas's candidates as it did in previous elections.
Israel hinted on many occasions that it would round up Islamist candidates, probably in order to enhance the chances of Fatah, the main rival of the Islamist movement.
Israel believes that the ascendancy of Hamas in Palestinian politics would make the task of liquidating the Palestinian issue more difficult.
On the other hand, Israel thinks that Fatah can be pressured or cajoled into accepting a compromise that would allow Israel to liquidate the right of return for millions of Palestinian refugees and also allow the Jewish state to keep settlements built in the West Bank especially in East Jerusalem.
The PA and Israel are partners in an active security coordination pact against Hamas. This security pact, which many Palestinians view as an expression of treason on Fatah's part, is considered one of the main obstacle impeding Palestinian reconciliation and unity.
In Nablus, a list headed by former mayor Ghassan Shakaa defeated Fatah's list, headed by Fatah's official. Nablus also witnessed a conspicuously low voter turnout.
According to political analyst Talal Okal, the low voter turnout reflected the public's lack of confidence in the Palestinian political system.
Okal pointed out that in many localities, "Fatah competed with Fatah."
"Fatah defeated itself. The elections showed that Fatah was not a cohesive and homogenous group."
Another political analyst, Mkheimer Abu Saada, pointed out that had Hamas taken part in the elections, Fatah would have lost badly in many localities.
The organization of local elections in the West Bank is expected to further exacerbate the deadlock between Fatah and Hamas.
PA leader Abbas said he hoped elections would lead to the ending of the rift between Gaza and the West Bank.
The elections were held under conditions of hard economic conditions as the occupied territories are reeling under a crushing economic crisis affecting most Palestinian families. There is also an absolute deadlock in the political process as Israel continues to build and expand Jewish colonies all over the West Bank, which observers say is killing whatever remaining chances for the establishment of a viable and territorially contiguous state.
In light, some Palestinian leaders have called for abandoning the two-state solution strategy and the adoption instead of a strategy based on the one-state solution whereby Jews and Palestinians would live in a unitary democratic state extending from the River Jordan to the Mediterranean Sea .
However, this idea is vehemently rejected by most Israelis since it would put an end to Israel as a Jewish state.
According to the latest demographic data, Jews are no longer a majority in Mandatory Palestine.
A Hebrew newspaper quoted Jewish demographics last week as saying that Jews in Israel and the occupied territories constituted 49 % of the population whereas non-Jews constituted 51%. Israeli leaders have refused to comment on the report.