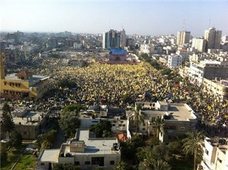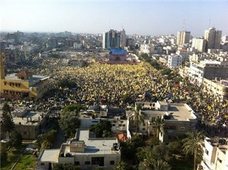 Hundreds of thousands of Fatah supporters participated in the celebrations in Gaza to mark the movement's 48th anniversary which raised the slogan of "the state and the victory", spokesman told Agence France Presse.
Hamas, in a sign of reconciliation with Fatah, issued its congratulations to Fatah on the anniversary in a statement, saying it is a "celebration of national unity and a success for Hamas as well as Fatah."
"The positive atmosphere is a step on the way to regain national unity," Hamas spokesman Sami Abu Zuhri said.
The centerpiece of the event was a short speech by Palestinian President Mahmoud Abbas from Ramallah, beamed to the Gaza crowd on giant screens.
In the pre-recorded message, Abbas said: "Victory is near and we will meet you in Gaza in the near future".
"This is an important moment in our struggle which boasts with the restoration of national unity", Abbas stated in his speech. "There is no substitute for national unity," he added.
"Gaza was the first Palestinian territory rid of (Zionist) occupation and settlement and we want a lifting of the blockade so that it can be free and linked to the rest of the nation."
The anniversary commemorates the first Fatah's armed wing operation against the Zionist entity of occupation, then known as Al-Assifa, on January 1, 1965.