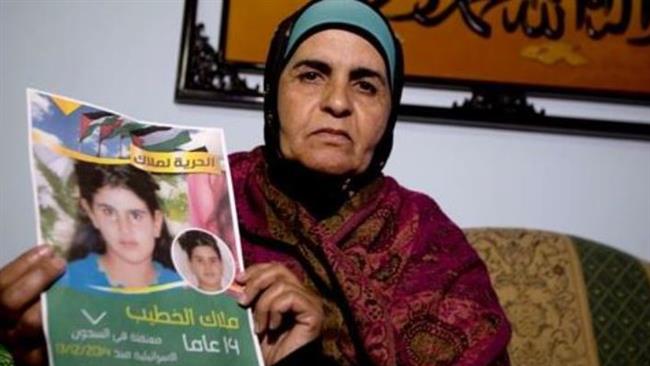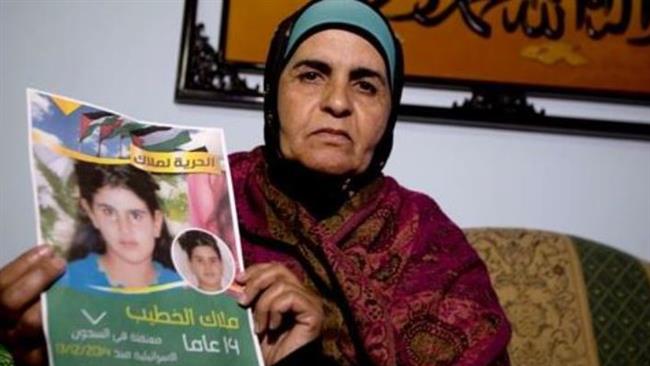 The parents of a 14-year-old Palestinian girl who has been sentenced by an Israeli court to two months in prison have voiced concern over their daughter's fate.
The youngest girl detained by Israel so far, Malak al-Khatib was arrested on December 31, 2014 in the village of Betin, near Ramallah.
Following at least three hearings, an Israeli court sentenced Malak to two months and a fine of $1,500 on charges of stone-throwing and the possession of a knife; the girl's parents have vehemently rejected both charges.
Ali al-Khatib, Malak's father, questioned Israel's harsh court order, saying, "A 14-year-old girl won't pose any threat to soldiers' lives."
"They are well equipped and well trained so what kind of threat could she have posed to them?" he said.
Malak's mother, Khawla, said, "She is a child. She was framed. She did not throw stones, nor did she carry a knife."
According to Palestinians, the treatment of Khatib, who still has four weeks of her term left at a central Israeli prison for women, demonstrates Israel's excessive measures against the Palestinians.
Meanwhile, Sarit Michaeli, a member of B'Tselem rights group, has criticized the Israeli regime handling of the Palestinian girl.
There are reportedly over 7,000 Palestinians in 17 Israeli prisons and detention camps. Among the Palestinian prisoners behind Israeli bars, there are 18 women, 250 children, 1,500 sick detainees, who are mostly in critical conditions, and 540 Palestinians held without any trial under the so-called administrative detention.