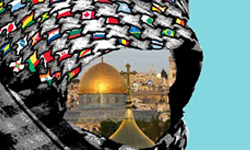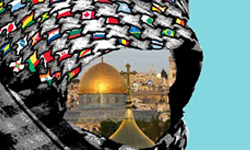 Rabbi Lynn Gottleib, one of the first eight women to become a Rabbi in the Jewish history, voiced full support for the Global March to Jerusalem, a civil resistance movement for the freedom of the Holy Quds.
Rabbi Lynn Gottleib has served congregations in the United States for 37 years, is one of the first eight women to become a Rabbi in the Jewish history, and has been a Palestine solidarity activist for over 40 years. She spoke to PNN about the importance of justice in Palestine and her hopes for the future of the region.
She currently lives in the Community of Living Traditions, a multi-faith residential community about 40 miles from New York City. In her own words it is a place "where Muslims, Christians, and Jews live together to study and practice non-violence in our own traditions, and to struggle for justice in the world".
"We train activists in solidarity work… we run a conference center together and we also offer people different kinds of programs, such as the art of resistance, (and) interfaith dialogues of action: once you begin your dialogue then what, what do you do then? We have special areas of interest such as justice for incarcerated people, and advocating human rights."
On the israeli-Palestinian conflict Gottleib said, "For me this is not a symmetrical conflict. This is a conflict between the occupied and the occupier. I love every person: every human being has a right to freedom of movement, has a right to live in their home without the fear of their home being destroyed, has a right to do process of law, and has a right not to have their land confiscated. So when I look at the conflict I look at it from that perspective: how to end the occupation."
Gottleib has been involved in the Global March to Jerusalem, which takes place on Friday in cities across the world, in Jerusalem, and along Israel's borders. "This is one of many opportunities to make a public statement about the need to end occupation, to bring down the wall, to uphold international standards of human rights, and to respect the dignity of humanity by stepping back from militarism on the Israeli side."
Skeptics have expressed worries that the march could turn violent, and the Israeli government has condemned the protest. "I think this is one step in many steps and it's impossible to know when the massive efforts of several generations will bear fruit, but one can't stop acting because you don't know when it's going to bear fruit, you have to keep acting on behalf of the current generation and next generations. I've heard stories now not only from my own people about the Holocaust and so forth, but also from Palestinians who have experienced the Nakba, the Naksa, and the first intifada, the second intifada and so forth. I feel that at this point in time there is growing awareness from many people that we have to create global solidarity for an end to occupation, and inshallah we will see the fruits in our lifetime. "
On her status as one of the first eight rabbis in Jewish history, Gottlieb remarked, "It was somewhat of a struggle, but history was ready for us when we finally came."
"History was ready for us. And I hope that history is ready for Muslims, Christians, and Jews; Israelis, both Jewish and 1948-ers, and Palestinians. I hope history is ready for us to finally live together in peace and in justice."
In a closing comment Gottleib expressed her wish that more people would put their prejudices about Palestine to one side and visit the region without fear: "I would like to call on my Jewish brothers and sisters not to be afraid and to come visit beautiful Palestine. I have been coming here for so many years and have found so much hospitality, and grace and beauty."
"We really can't let fear determine how we act towards each other. We have to trust in each other and try to create a situation where we can live in freedom together, so come visit," she concluded.