Iran
Technology
Fidel Castro: Iran Ready to Give Crushing Response to Aggressors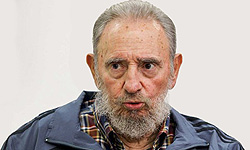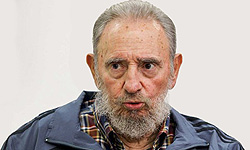 Leader of the Cuban Revolution and Former President Fidel Castro voiced pleasure in his recent fruitful meeting with Iranian President Mahmoud Ahmadinejad in Havana, and said Iranians are completely prepared to give a crushing response to any possible aggression against their country.
"In my meeting, the Iranian president was highly calm, unstressed and completely indifferent to the Yankees' threats," Castro said after meeting Ahmadinejad.
"He was certain of his nation's capability to confront any aggression and Iran's arms capability, weapons that most of them are produced by Iranians to give an unforgivable response to the aggressors," he added.
Also during his visit to Quito earlier this week, Iranian President Mahmoud Ahmadinejad had vowed that Iran would stand up to growing US pressure over its nuclear program, and stressed that Tehran would give a firm response to any enemy attack.
"Embargoes and sanctions against Iran have had no effect," Ahmadinejad said in an interview in Quito with Mexican television network Televisa.
"Naturally, if the United States wants to disturb, damage and strike the Iranian people, the Iranian people also stand very strong. It will respond firmly," he said.
Ahmadinejad came back home on Friday after a five-day tour of Latin America, which took him to Venezuela, Nicaragua, Cuba and Ecuador.
"We have shown the best cooperation with the international (Atomic Energy) agency," Ahmadinejad declared. "The Iranian nuclear problem is totally political. It is clear that the United States is looking for a pretext to put a brake on the progress of the Iranian people."
Iran says its nuclear program is a peaceful drive to produce electricity so that the world's fourth-largest crude exporter can sell more of its oil and gas abroad. Tehran also stresses that the country is pursuing a civilian path to provide power for the growing number of Iranian population, whose fossil fuel would eventually run dry.
The US and its western allies allege that Iran is pursuing a nuclear weapons program while they have never presented corroborative evidence to substantiate their allegations against the Islamic Republic.
Iran is under four rounds of UN Security Council sanctions for turning down West's calls to give up its right of uranium enrichment, saying the demand is politically tainted and illogical.