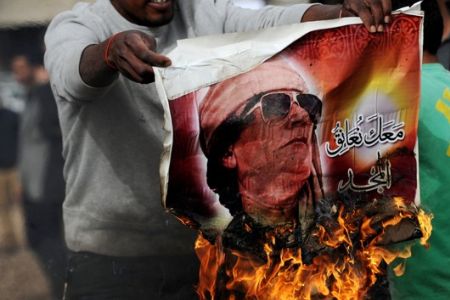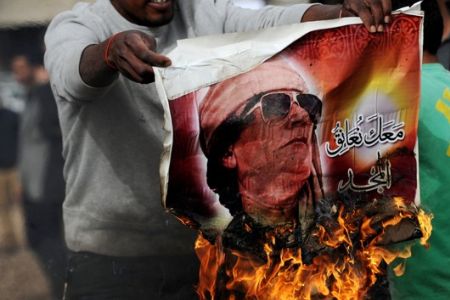 As the Revolution of the Libyan people entered its third week, it appeared that the Libyan President Muammar Gaddafi and the opposition demanding the change are involved in the battle to the end, no matter how long-standing confrontation may be open to all possibilities.
Forces loyal to Muammar Gaddafi have been staging a fight-back against opposition forces, taking the town of Bin Jawad and moving on to the oil port of Ras Lanuf. Two have been reportedly martyred and at least 30 others have been injured in the air strikes.
Witnesses have also told Al Jazeera that Az Zawiyah, in the west of the country near the capital Tripoli, was under heavy attack by government forces. There has been fierce fighting in Misurata, located between Tripoli and Gaddafi's hometown Sirte, with reports of at at least 18 people, including a baby, were martyred in the fighting in the town of Misrata.
Government forces appeared to have drawn a line in the sand on the road to Sirte. At the hospital in Brega, 42 injured members of the opposition force were being treated, while there were confirmed deaths of at least eight, our correspondent reported.
The opposition forces have plenty of rifles and ammunition, but Gaddafi's troops had aircrafts which the rebels did not.
With helicopter gunships, fighter planes and tanks, Gaddafi loyalists have pounded opposition fighters with artillery, rockets and gunfire in several cities, including Bin Jawad, Tobruk, Ras Lanuf and Misurata.
Libya's opposition council said its forces fought off troops loyal to Gaddafi in Zawiyah and Misrata on Sunday, and the two cities were now "liberated". A spokesman told a news conference in Benghazi that all cities in the east of the country remain liberated.
Bin Jawad, previously held by anti-Gaddafi protesters, was reclaimed by government forces on Sunday, but opposition fighters continued to advance on the area amid conflicting claims about the capture and recapture of several strategic Libyan cities and towns. The casualty list posted at Ajdabiya hospital, where most of the wounded were taken after Sunday's clashes, reported seven martyred and about 52 people hurt. Witnesses said another six or seven martyrs were taken to the oppositions' main stronghold of Benghazi.
Anti-government protesters are now trying to push their way towards the capital where Gaddafi is holed up.
Meanwhile, the UK has confirmed that a small British diplomatic team is in Libya's eastern city of Benghazi to initiate contacts with the opposition, and that "experienced difficulties" there, have now left the county, UK foreign secretary William Hague said on Sunday.
"We intend, in consultation with the opposition, to send a further team to strengthen our dialogue in due course," he said in a statement. "We continue to press for Gaddafi to step down and we will work with the international community to support the legitimate ambitions of the Libyan people," he added.
Earlier reports indicated that Libyan revolutionaries have detained a British Special Forces Unit and a junior diplomat.
Gaddafi, meanwhile, made a fleeting appearance on Libyan state television on Sunday night, but disappeared almost immediately. He accused France of interference in the country's internal affairs and blamed Al-Qaeda for the revolt against his regime, in an interview aired Monday by France24 television.
The UN secretary general has called for an end to indiscriminate attacks on civilians in Libya and warned of "carnage" in the days ahead. Ban Ki-moon has also dispatched a team to Tripoli to assess the humanitarian situation in the wake of the Libyan regime's "disproportionate use of force".