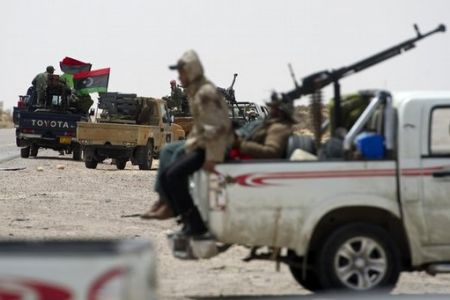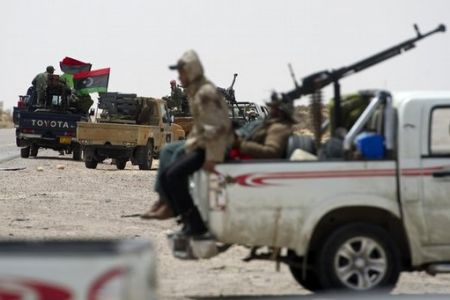 Heavy fighting and clashes have been reported between revolutionaries and forces loyal to embattled ruler Muammar Gaddafi near strategically-important Libyan towns.
Pro-Gaddafi forces are locked in fighting with opposition fighters near Brega.
Revolutionaries say they were attacked outside the oil town of Brega and had to move eastwards toward Ajdabiya.
Several cities are still in the hands of opposition forces, as revolutionaries are still struggling to push their way towards the capital Tripoli.
However, rocket and artillery fire unleashed by Gaddafi forces indicate that the government's offensive capabilities remain very much intact.
Anger has been mounting over what opposition forces have described as NATO's inability to prevent regime forces from killing civilians.
The head of the opposition's armed forces says NATO's inaction has allowed government troops to advance and kill people in Misratah and other cities.
"[NATO] is letting the people of Misratah die every day," Gen Abdul Fattah Younis told reporters in Benghazi, the opposition's stronghold.
"If NATO should wait another week, there will be no more Misratah," Younis added.
Younis noted that revolutionary forces would ask the UN Security Council to suspend the NATO mission in Libya if it fails to do its job properly.
He also slammed Western-led forces over the civilian death toll caused by NATO's bombing campaign in the country.
Many civilians have reportedly been killed since the Western-led war on Libya began last month.
NATO has dismissed the criticism, saying its airstrikes against Gaddafi forces have increased every day. NATO assumed command of the aerial onslaught on Libya a week ago.
Dozens of civilians have been killed in Libya since US-led forces launched aerial and sea attacks on the North African country.
Libyan troops have also killed thousands of civilians since the revolution against Colonel Gaddafi began in mid-February.
Critics, however, accuse the West of hypocrisy over the offensive on Libya, along with their silence towards the brutal crackdowns on similar anti-regime movements elsewhere in the Arab world, such as in Bahrain, Saudi Arabia and Yemen.