Syria
Final map of southern Syria after one month battle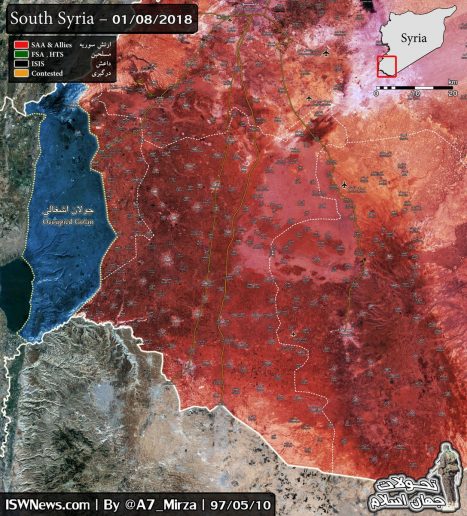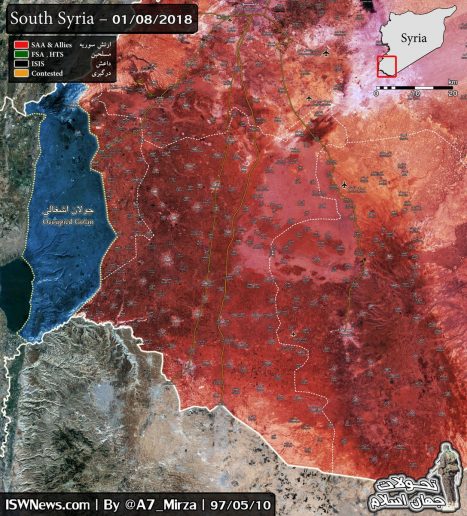 In late June, the Syrian Arab Army kicked off their long-awaited offensive to capture the rebel and Islamic State (ISIS) held territories in southern Syria.
Not long after launching this offensive, the Syrian Arab Army was able to sweep through several areas controlled by the rebel forces, including the Al-Lajat Plateau.
Once the Al-Lajat Plateau was secured, the Syrian Arab Army began their imperative battle to retake the Nassib Crossing and historical city of Busra Al-Sham near the Jordanian border.
This battle would not last for very long, as the Syrian Arab Army imposed full control over the Nassib Crossing and Busra Al-Sham after forcing the rebels to surrender these areas.
With east Daraa secured, the Syrian Army then shifted their attention to the provincial capital, where they were expecting to face heavy resistance from the Free Syrian Army's (FSA) Southern Front Brigades and Hay'at Tahrir Al-Sham.
However, the battle for Daraa city would only last a few days before the rebels agreed to leave the provincial capital and its surrounding villages.
The Syrian Arab Army then moved their forces north to the "Death Triangle" in a bid to retake the most important hilltop in the Daraa Governorate.
Hay'at Tahrir Al-Sham would attempt to put up a fight at Tal Al-Harrah, but they were ultimately no match for the Syrian Arab Army and Russian Aerospace Forces.
The jihadist rebels would surrender Tal Al-Harrah and all their remaining territories in Daraa and Al-Quneitra after agreeing to leave southern Syria for Idlib.
The final battle in southwest Syria would take place in the Yarmouk Basin region, where the Islamic State affiliated Jaysh Khaled bin Walid forces had spent several years of this war.
Similar to all of their previous battles, the Syrian Arab Army would liberate this large area in a matter of ten days.
Jaysh Khaled bin Walid still has some areas they have refused to surrender, but they are completely surrounded by the Syrian Arab Army.