Middle East
Saudi Arabia
Fire hits high-speed rail station in Saudi Arabia's Jeddah, no casualties reported
The Civil Defense in Mecca Region in Saudi Arabia says a number of temporary contractor offices have been badly damaged after a blaze broke out inside the courtyard of the centerpiece of a new multibillion-dollar high-speed rail project in the kingdom's coastal city of Jeddah.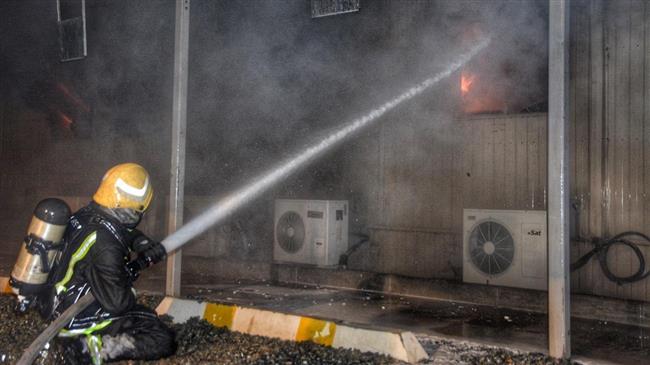 Colonel Muhammad al-Qarni, a spokesman with the civil defense, said the fire originated from makeshift cabins, covering an area of 1,200 square meters in al-Sulaymaniyah neighborhood and very close to the Haramain high-speed rail station.
The spokesman added that firefighters rushed to the station after they were informed about the incident at 7:27 p.m. local time (1627 GMT) on Thursday.
Fire crew finally managed to bring the blaze under control, according to the English-language daily newspaper Saudi Gazette.
The cabins had no employees inside and there were no injuries or casualties, the General Directorate of Saudi Civil Defense wrote in a post published on its official Twitter page. There was no immediate known cause of the fire.
Back on September 29, 2019, a massive fire ripped through the same train station, leaving at least five people injured.
Videos posted on social media at the time showed black plumes of smoke billowing out of the Haramain train station, and helicopters flying over the scene. Online videos showed nearly a dozen people on the roof of the structure.
The renovation of the station started earlier this week. The station had been out of operation after last year's conflagration.
The Haramain high-speed railway was inaugurated by King Salman bin Abdulaziz in 2018 to connect the Muslim holy cities of Mecca and Medina with the Red Sea city of Jeddah.
The 450-kilometer (280-mile) line is reportedly the biggest electric speed train project in the Middle East, with trains traveling at a speed of 300 kilometers per hour.
The blaze came a day after a huge fire erupted at a fodder market in eastern Saudi Arabia causing material damage.
The raging fire broke out in the market's parking area in Hafr Al Batin city in the Eastern Province on Wednesday, gutting at least 20 trucks loaded with fodder, Al Youm daily reported.
Last week, a fire erupted at the same market, Al Youm added, citing customers who claimed that the place lacks in necessary safety measures.
Separately on Wednesday, a huge fire struck a closed fruit and vegetable market in the new industrial area in Ajman, the capital of the United Arab Emirates (UAE), local media reported.
The blaze, which erupted at 6:30 pm local time, caused no casualties and was soon brought under control, the report cited the head of Ajman police.
The fires in Saudi Arabia and the UAE came just a day after a catastrophic explosion rocked the Lebanese capital of Beirut, killing at least 157 people and wounding at least 5,000 others.