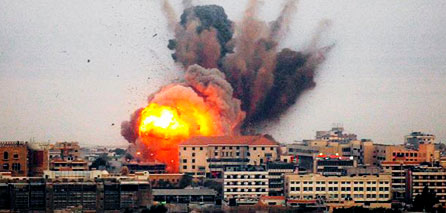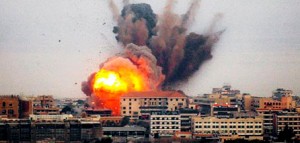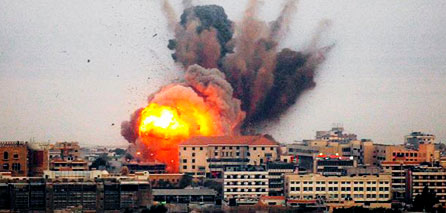 During the first four minutes of Zionist entity's devastating winter assault on the Gaza Strip, launched 11:25amlocal time one year ago today, over 60 warplanes struck 50 targets, ultimately killing and injuring hundreds by midnight.
At least 228 Palestinians lost their lives during the opening hours of the offensive, including 25 women and children, making 27 December 2008 the deadliest day for the local population in the occupied territories since Zionist entity first invaded in 1967.
Medical officials say some 700 Palestinians were injured by nightfall, 140 of them seriously. Hospitals turned away patients as doctors performed multiple surgeries in the same operating theaters, as well as in ordinary examination rooms.
"The situation – actually there was chaos, total chaos," according to the head of the World Health Organization (WHO) in the Strip, Mahmoud Daher, who was enjoying his day off when Zionist fighter jets leveled the Gaza City police headquarters just south of Ash-Shifa Hospital, the first medical center to receive the injured and dead.
"I was on leave that day. At around 11:30 the Zionist fighter bombers targeted the area. We heard very loud explosions. I heard the explosions, and I'm talking here in my capacity as a WHO officer, and in my capacity as a Gaza citizen," he told the UN's Gaza fact-finding mission. "There was a great number of injured pouring into the hospital. I was not able to talk to any of the hospital officials because they were all busy, very busy caring for the patients."
The first attacks came during scheduled lunch breaks for tens of thousands of school children, a choice of timing widely blamed for the day's inordinate toll in killed and injured minors. Eight students died during an UNRWA training course when an Zionist missile struck a PA office housed next door.
Daher recounted: "I was scared because my children were at school. I went to my children's school and I tried to take my daughters out of the school. There was panic all over the school. Parents rushed to the school to get their children. I was able to take my daughters back home. So we did not understand the situation at the beginning. We didn't know – was that only [one] air raid, or was that just the beginning of an all-out war. We didn't really understand the situation as such."
According to Zionist entity's own assessment of what its army termed Operation Cast Lead, a number of non-military facilities were deemed acceptable targets because of their connection to the Hamas-run, de facto government in the coastal territory.
"This operation is different from previous ones. We have set a high goal which we are aiming for. We are hitting not only terrorists and [rocket] launchers, but also the whole Hamas government and all its wings," announced Zionist entity's deputy chief of staff, Maj Gen Dan Harel. "After this operation there will not be one Hamas building left standing in Gaza, and we plan to change the rules of the game."
Zionist entity broadly interpreted the definition of Hamas-linked facilities, however, targeting Palestinian Authority (PA) and civilian infrastructure throughout Gaza. As many as 165 police officers died on the first day of the assault in multiple airstrikes on PA security compounds in Gaza City and Rafah, as well as civil police stations and naval posts. About 60 new recruits died in a single attack on a police academy graduation ceremony in Gaza City, just minutes into the three-week assault.
Between 250 to 300 patients hurt in that strike were immediately transferred to Ash-Shifa Hospital, which was quickly overwhelmed, according to Daher, the WHO chief.
He noted: "A certain number of the surgical operations could not absorb this great number of injured. That is why there was more than one surgery carried out in the same room at the same time. Of course, under normal circumstances, this would not happen, but there was no other choice but for the medical crews to operate this way.
"There was this great number also of patients and injured lying on the floor, simply because there was not enough beds. They were treated while lying on the floor. The operations were also carried out in the ordinary rooms, but these were not equipped with the necessary equipment for surgery."
Strangled by the years-long Zionist and Egyptian blockade, Daher said Gaza was entirely underprepared even for the first day of hostilities. "On December 26th, 2008, the night before the first Zionist bombing, the Palestinian health care warehouses had shortages in about over 100 basic medical items … So many of the medicine items were lacking. I'm talking about 100 most basic medicine items for a period of one month. I think 250 medicine items [and] consumable items were lacking."
Days later, the arrival of foreign specialists and aid filled some gaps, the official noted. But Daher applauded his colleagues' steadfastness in the face of attacks that would eventually kill 16 medics in the line of duty, as well as destroy ambulances and health facilities.
"The medical crews were present around the clock. And during the weeks, the first weeks of the war when the ground troops invaded Gaza … their daily movements posed risks, great risks for them," he said. "They were extremely tired; they were exhausted. And yet they performed in a remarkable manner, and they were able to exert [every] effort, despite all the pressure, despite all the tasks, despite the great number of injured pouring in at any moment."