Iran
First VP: Iran Prepared to Confront Challenges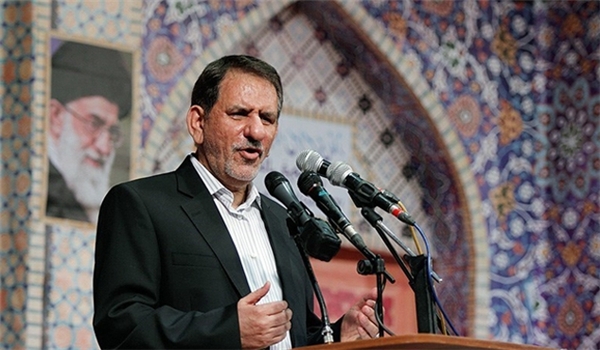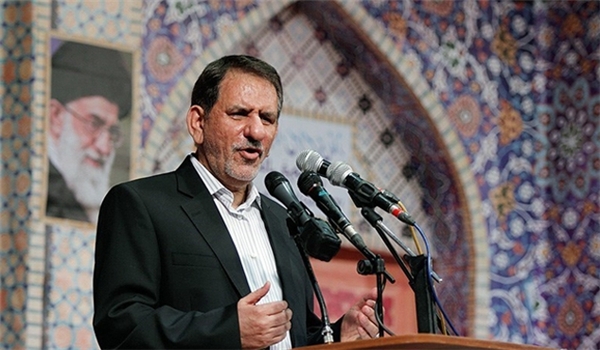 Iranian First Vice-President Eshaq Jahangiri ensured that the country is ready to deal with the challenges posed by the enemies.
Jahangiri said in the Southern city of Ahwaz on Wednesday that Iran is the hub of security and stability despite all the hostilities, pressures and the world arrogance's violation of the International Law.
Noting that lack of security in Syria and Iraq are the outcome of foreign intervention and terrorism, he said thanks God the Islamic Republic of Iran is in a fully safe atmosphere, busy with construction and economic development.
Pointing to the oil price falls to about 55 dollars from 106 dollars and its negative impact on Iran, Jahangiri said the Islamic Republic of Iran used to export daily 2,400,000 bpd in the past few years, but, the "tyrannical" sanctions posed limits and restricted the oil sales, bringing it to one million bpd.
"Iran is able to leave behind the challenges created regularly by the enemies thanks to prudence and vigilance of people and government," he stressed.
In relevant remarks in December, Jahangiri said that the government had prepared an economic plan upon the Supreme Leader's guidelines to run the country, which will go into effect in case crude prices fall under $40 per barrel.
Speaking in a meeting in Western Province of Hamedan, Jahangiri said if the price slid to under 40 dollars per barrel, Iran intended to run the country with resistance economy policy.
In early March, Supreme Leader of the Islamic Revolution Ayatollah Seyed Ali Khamenei in a meeting with economic activists, elites and state officials in Tehran explained the root cause of Iran's turn to the Resistance Economy as well as the specifications, features and components of such an economic model.
Ayatollah Khamenei elaborated on the reasons and incentives for the adoption of the economy of resistance, and said, "Abundant material and non-material capacities of the country, treatment of chronic and lasting economic problems, confrontation against sanctions and immunizing the country's economy against global economic crises" are the reasons why such a model should be practiced in Iran.
He further noted that the components of the resistance economy are "creating movement and dynamicity in the country's economy and improving macroeconomic indicators", "ability to resist against threatening factors", "reliance on internal capacities", adoption of a "Jihadi approach", "people-centeredness", "reforming consumption patterns", "campaign against corruption" and adoption of "knowledge-based approach".
Ayatollah Khamenei referred to the sanctions imposed by the western powers against Iran due to its peaceful nuclear program, and said the country should strengthen its economy in a way that no boycott and embargo could ever leave a negative impact on it so easily.