Myanmar
Five dead after Myanmar military forces ram truck into Yangon rally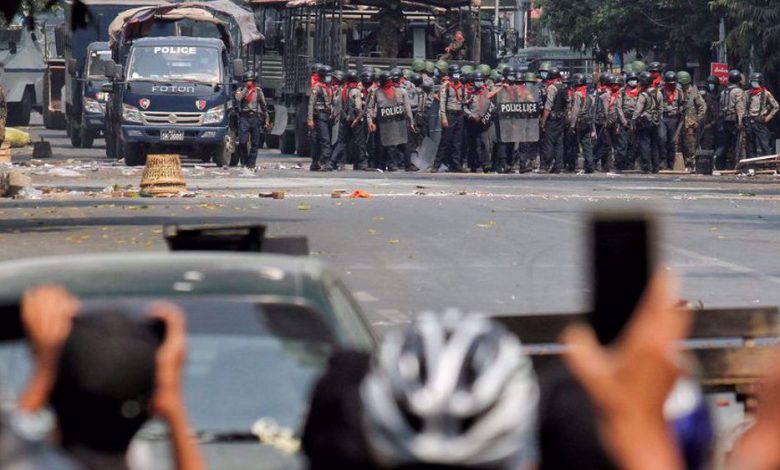 Myanmar's junta forces have rammed a military truck into protesters taking part in a peaceful anti-coup rally in Yangon, causing a number of casualties.
At least five people were killed and dozens were injured in the incident on Sunday morning, according to local media reports.
The military truck hit the crowd from the back, witnesses said, and soldiers followed the scattered protesters, arresting and beating them.
Some were seriously injured in the encounter and some became unconscious.
Photos and videos on social media show a vehicle crashing through the protesters and bodies lying on the road.
In the afternoon, protesters staged another anti-junta rally in Yangon.
Rallies have recurred since the Feb. 1 coup that toppled the elected government of Aung San Suu Kyi.
Meanwhile, the defense ministry of the opposition shadow government, referred to as the National Unity Government, condemned the act of violence by the junta forces.
"We will strongly respond to the terrorist military who brutally, inhumanly killed the unarmed peaceful protesters," it said.
The junta accused the protesters of initiating the violence.
People at the scene reported differently.
According to a journalist present at the rally, the security forces plowed through the protest rally without any provocation.
"They increased the speed when they got closer to the protesters — it was like they drove into them," he said, declining to provide his name for security reasons.
The journalist said he witnessed that a handful of people, some carrying pro-Suu Kyi banners, were hit and splayed on the ground as others fled the scene. "Then the soldiers jumped out of the car and started shooting," he said.
The junta, which has alleged electoral fraud in last year's poll as a justification for the coup, has been clamping down on opposition protest rallies held by pro-democracy activists.
Suu Kyi, 76, was placed under house arrest after the coup. She has been charged with a raft of criminal offenses that could see her behind bars for decades.
She has rejected all the charges lodged against her.
Suu Kyi's National League for Democracy (NLD) party, which was founded in 1988, had become a formidable political force in Myanmar before the coup altered the political landscape in the Southeast Asian nation.
More than 1,200 protesters have been killed by junta forces since the coup.