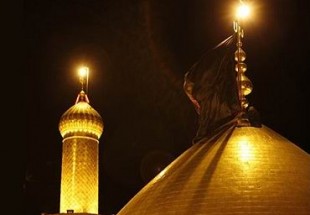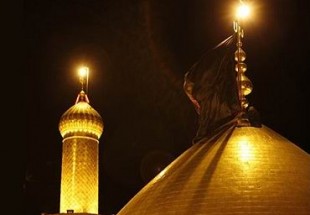 The red flags of the two holy shrines of Karbala, the Holy Shrine of Imam Husayn (A) and that of his brother Hadhrat Abbas (A), were changed yesterday as a symbol of the start of the month of Muharram and mourning, reported Rasa news
Thousands of people witnessed this event, which declared the commencement of the grief of the Muslims for the loss of the Master of Martyrs, Imam Husayn (A), and his honourable household (A) and righteous companions (A), and the difficulties they endured for the sake of Islam.
After reciting a few verses of the Holy Quran, the blessed servants of the shrines removed the red flag upon the dome of the Holy Shrine of Imam Husayn (A) and replaced it with a black flag, to mark the official beginning of the two-month long period of mourning. After the changing of the flag upon the dome of the shrines, the atmosphere was one full of grief and sorrow.
The servants of the two holy shrines in Karbala also hung black cloth along the Bayn al-Haramayn (area between the two holy shrines) to complete the atmosphere of sadness and blackness.
The endowment also completed improvements sections for ease of movement by the pilgrims to allow for religious processions as well as the application of their security plan for the first ten days of Muharram.
The ceremony took place after the maghrib (sunset) and 'isha (night) prayers before the eyes of thousands of pilgrims, local and Iraqi government officials and Sayyid Salih al-Haydari, the head of the Iraq Shi'ah Endowment.
This year, Shi'ites mourn the tragedy of Karbala under the threat of Takfiri terrorist attacks on the shrines and in the background of Takfiri terrorism throughout the country and region. However, they are not afraid to continue their mourning ceremonies. Shi'ites realize the importance of the month of Muharram and the necessity to remember the sorrows of the Ahlul-Bayt (A) and the martyrdom of Imam Husayn (A).
Shi'ites also want to show a positive image to the whole world that the believers are committed to the love of Ahlul-Bayt (A) and the path of truth. Islam encourages Muslims to strive against all injustice, despite the harsh circumstances, in order to revive true Muhammad Islam.