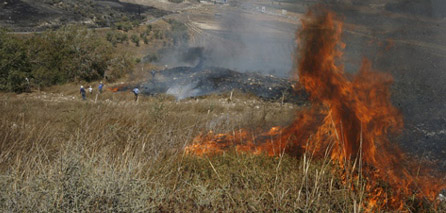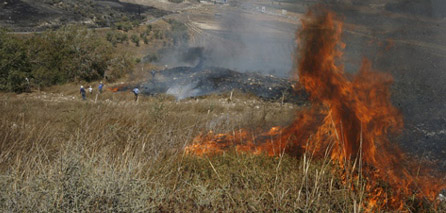 Flocks of Zionist settlers supported of number of Zionist soldiers have attacked the Palestinian village of Burin in the West Bank early Thursday.
Flocks of settlers have attacked the Palestinian village of Burin on Thursday morning 5th of August.
The savage attack took place when 100 settlers from the illegal settlement of Kiryat Arba gathered to break into the village to commit criminal acts against Palestinian residents in the area.
Settlers started throwing stones at the Palestinian homes and residents in the area, what caused of hurting a number of Palestinians in the village, settlers also have burned number of fields in the area causing massive devastation and casualties in the properties.
As a response to settlers attack, Palestinians in the village gathered to defend their homes and fields, where many of the Palestinians who defended their village were injured by settlers' stones and bullets of Zionist soldiers who came to give support.
Zionist occupation wages criminal acts in West Bank villages repeatedly and deliberately, confiscating homes to expand settlements in expense of Palestinian lands.
Many Palestinians face detention for no reasons, what violates the international law and human principles by a state of terror called Israel.