Europe
Floods kill four people in southwestern Germany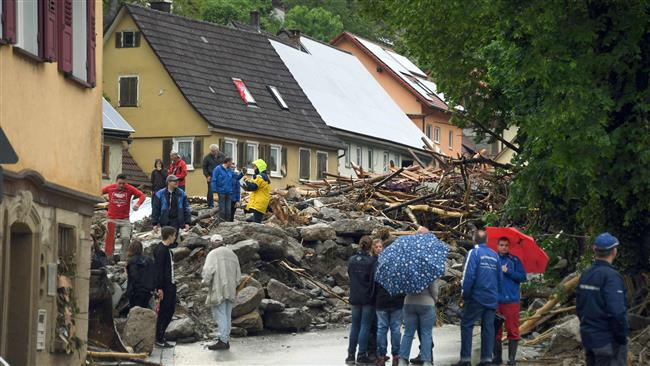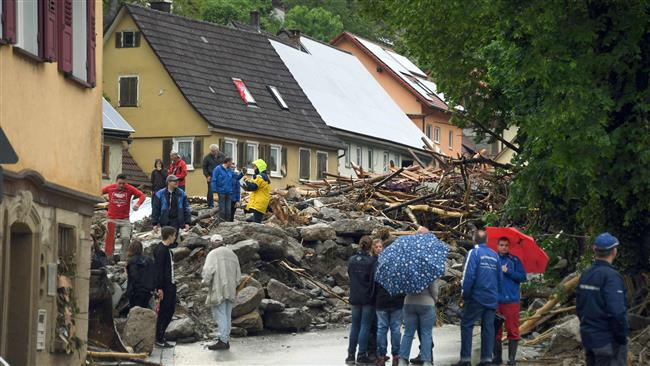 Severe floods caused by violent storms and torrential rain have claimed the lives of at least four people, including a teenage girl, in southwestern Germany.
Among the four victims was a 13-year-old girl who was hit by a train in Germany's southwestern state of Baden-Wuerttemberg while she was apparently seeking shelter from heavy rain under a railway bridge.
The regional authorities in the state of Baden-Wuerttemberg have so far put the number of people who sustained injuries at around 10.
Flash floods accompanied by rainstorms and heavy rain on Sunday evening and during the night triggered major flooding and caused severe damage in the state.
In a town near the southwestern city of Stuttgart, a volunteer firefighter lost his life when he was trying to rescue a man trapped in a railway station. The trapped man lost his life too.
The fourth casualty was a 60-year-old man who died in a flooded underground car park in the town of Weissbach near the city of Heilbronn.
In the small southern town of Braunsbach, two rivers burst their banks and unleashed huge floodwater which led to the destruction of one house and major damage to several others and left the streets strewn with debris.
The Baden-Wuerttemberg authorities said as many as 7,000 firefighters, police and rescue workers were called out in more than 2,000 incidents as much of Germany experienced heavy rainstorms over the weekend.
The flooding is the latest fallout from a severe storm that hit much of Germany and Europe over the weekend.