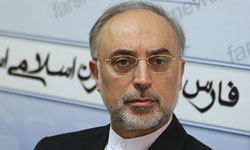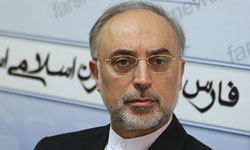 Iranian Foreign Minister Ali Akbar Salehi reiterated Tehran's strong support for the unity and integrity of Iraq, and added that Iranian authorities are determined to expand and improve the two neighboring countries' all-out relations.
Speaking at a meeting with visiting Iraqi Minister of Communications Muhammad Tawfiq al-Allawi here in Tehran on Sunday, Salehi stressed that the Islamic Republic of Iran fully and strongly supports unity and integrity and deepening of stability and security in Iraq.
He further cautioned about the unwanted consequences of any insecurity and instability in each of the regional states, including Iraq and Syria, on the entire region.
The Iranian minister further noted the growing trend of stability and security as well as the Iraqi people's growing control over their fate after the withdrawal of the foreign occupying troops from the country, and expressed the hope that Iraq could restore its influential standing on regional and international scenes through the Iraqi people's solidarity and unity and the Baghdad government's continued efforts.
The Iraqi minister, for his part, lauded Iran's great advancements in scientific and technological fields, and stressed that Baghdad is ready to use Iran's invaluable experience in communication and information technology.
In relevant development, Iranian Communications and Information Technology Minister Reza Taqipour and his Iraqi counterpart on Saturday underlined the necessity for the expansion of telecommunication and IT cooperation and relations between the two countries.
Iran and Iraq have enjoyed growing ties ever since the overthrow of the former Iraqi dictator, Saddam Hussein, in 2003.
Both sides are working on a series of plans to take wide strides in expanding their ties.