Iran
Foreign diplomats visit Salafchegan FTZ in Qom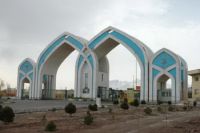 A group of foreign ambassadors and commercial attaches residing in Iran on Thursday visited various parts of Salafchegan free trade zone (FTZ) in Qom to get acquainted with the potentis of the region.
According to IRNA, ambassadors from Russia, Italy, Turkey, Japan, North Korea, China and the Philippines were among the visitors.
The Iranian deputy foreign minister for Asia-Pacific affairs along with some local officials accompanied the foreign diplomats during the visit.
Salafchegan free trade zone established in an area of 2,000 square meters is located south west of Qom, being regarded as the transit route in central Iran for access to European countries, Central Asia and the Persian Gulf region.