Iraq
Foreign military bases not welcome in Iraq, national security advisor says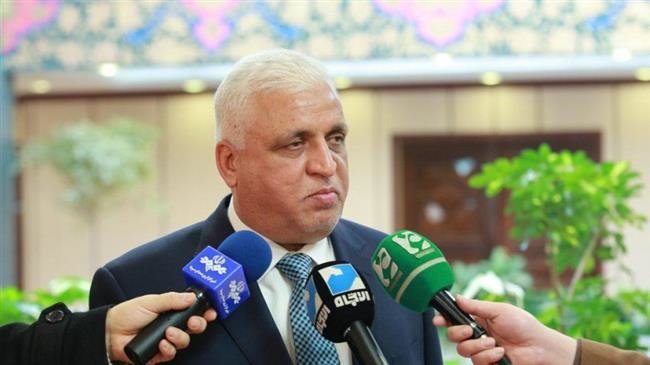 Iraqi National Security Adviser Falih al-Fayyadh says the Baghdad government is vehemently opposed to the presence of foreign military bases on its territory.
"We will not accept any foreign military bases — or foreign ground forces — in Iraq," Fayyadh said in a statement released on Wednesday.
He added that exceptions, however, could be made for advisors and instructors working upon an official request from the Iraqi government.
Fayyadh further highlighted that the advisors "provide our forces with logistics and training within the context of the ongoing fight against Daesh (Takfiri terrorist group)."
On February 12, Iraqi Prime Minister Adel Abdul-Mahdi told acting US Defense Secretary Patrick Shanahan in Baghdad that his country will accept no foreign military bases on its soil, just as it will not take dictates from outsiders.
Abdul-Mahdi said Iraq-US relations must be based on the "basic agreements" existing between the two sides, which merely deal with fighting terrorism and training Iraqi forces, and "nothing else."
Iraq makes "independent" decisions and will not be influenced by foreign pressure or dictates, he noted, reiterating Baghdad's objection to the presence of foreign military bases on Iraqi territory.
Abdul-Mahdi also hailed Iraq's achievements in restoring stability after defeating Daesh terrorist group, and urged international support for the ongoing reconstruction process.
The remarks came a day after Iraq's two leading Shia parliamentary coalitions of Sairoon (Marching Towards Reform) and al-Fatah (Conquest) renewed their calls for the withdrawal of American forces from the Arab country.
Calls have grown in Iraq for the pullout of American forces since last December, when President Donald Trump made an unannounced visit to al-Asad Air Base in the western Iraqi province of Anbar.
The trip sparked a wave of condemnations from Iraqi political leaders, with some of them demanding the swift expulsion of US troops.
Leading a coalition of their allies, American soldiers were deployed to Iraq in 2014, when the Takfiri Daesh terror group unleashed a campaign of destruction in the Arab country.
Numerous reports, however, have attested that the US-led military operations have largely spared the terrorists, and instead claimed hundreds of civilian lives and inflicted considerable damage on Iraqi critical infrastructure.
Former Iraqi prime minister Haider al-Abadi declared the end of military operations against Daesh in the country on December 9, 2017.
On July 10 that year, he had formally declared victory over Daesh in the strategic northern city of Mosul, which served as the terrorists' main urban stronghold in Iraq.