Asia-Pacific
Foreign ministers of South Korea, China, Japan meet to settle disputes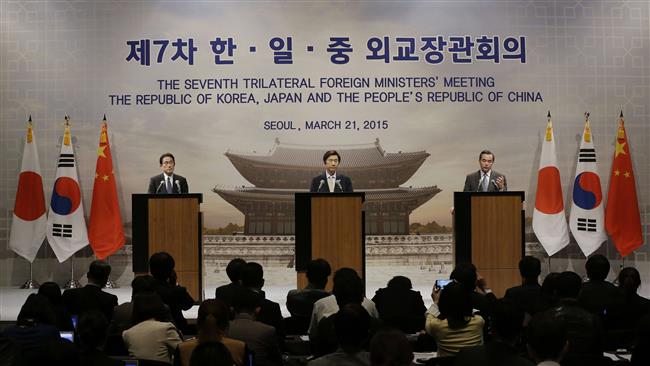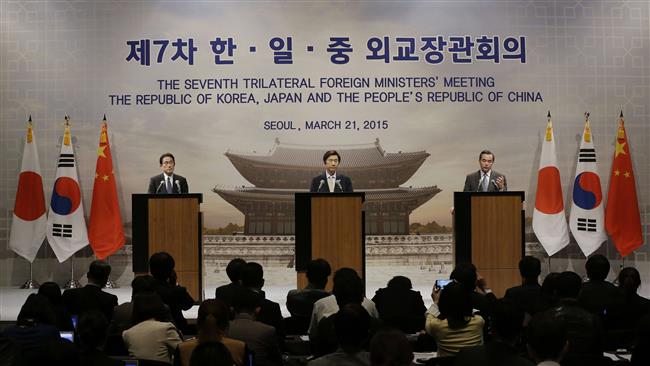 Foreign ministers of China, Japan, and South Korea have met for the first time in nearly three years, agreeing to hold a three-way summit soon in a bid to settle territorial and political disputes.
During the rare event on Saturday in the South Korean capital, Seoul, China's Wang Yi, Japan's Fumio Kishida, and South Korea's Yun Byung-se announced agreement to work on coordinating policies in various fields, ranging from denuclearization of North Korea to counterterrorism.
The foreign ministers of the Asia-Pacific nations last met in April 2012 for their sixth annual trilateral meeting. Since then their relations have deteriorated partly due to leadership changes in the three countries.
The three top diplomats also declared in a joint statement that they had agreed to further work on differences in remembering Japan's wartime occupation "in the spirit of facing history squarely and advancing toward the future."
They, however, offered little indication regarding the extent to which such rifts have been narrowed.
"Trilateral cooperation is now put back on a normal track," said Wang.
Reiterating Beijing's position, Wang added, "The war has been over for 70 years, but the problem with history remains a present issue, not an issue of the past."
Following the meeting, the South Korean foreign minister said the three sides had agreed to "strengthen trilateral cooperation."
The three countries have maintained strong trade ties but the overall relations still suffer from unsettled issues dating back to Japan's World War II actions.
The Saturday event comes just days after China and Japan held their first high-level security talks in four years.
The United States has expressed concern over the conflicts in the region, particularly between Tokyo and Seoul, which are militarily allied with Washington in the Asia Pacific.
Last week, US Assistant Secretary of State Daniel Russel referred to continuing tensions between the United States' "two friends" as a "strategic liability."