Syria
Foreign Terrorists' Assassination Bid against Homs Governor Fails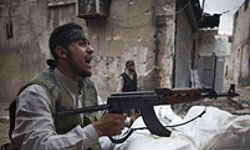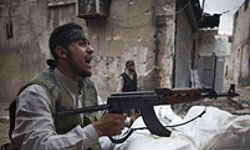 An assassination attempt by the Syrian rebels on the life of the Governor-General of the Western Homs province, Ghassan Abdul-Al, failed on Thursday.
Abdul-Al's car was targeted by the rebels in a terrorist operation near his home in the Homs province on Thursday.
The Syrian official survived the attack, but one of his bodyguards was injured.
Terrorists have tried hard in the last several days to make Syrian cities unsafe for citizens, but the army has purged them from most neighborhoods and districts, killed tens of them and arrested many others.
Syria has been experiencing unrest since March 2011 with organized attacks by well-armed gangs against Syrian police forces and border guards being reported across the country.
Hundreds of people, including members of the security forces, have been killed, when some protest rallies turned into armed clashes.
The government blames outlaws, saboteurs, and armed terrorist groups for the deaths, stressing that the unrest is being orchestrated from abroad.