Latin America
Former Brazilian President Hails Iran's Int'l Stances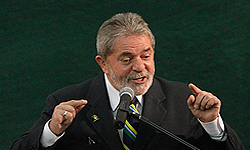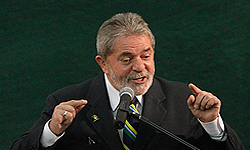 Former Brazilian President Lula Da Silva in a meeting with Iranian President Mahmoud Ahmadinejad praised Tehran for its proper stances and positions on different international developments.
Ahmadinejad met with Da Silva on the sideline of Rio+20 Summit on Wednesday.
Ahmadinejad wished good health and quick recovery for Da Silva, and invited him to visit Tehran one more time.
Da Silva for his part praised the Iranian president's speech at the summit, and approved of Tehran's position on various international issues.
Ahmadinejad, heading a high-ranking delegation, started a two-day visit to Brazil Wednesday morning in a bid to hold meetings with senior Brazilian officials.
The visit came at the invitation of his Brazilian counterpart Dilma Rousseff.
Iran has in recent years expanded friendly ties with Latin America, specially in economic, trade and industrial fields.
Since taking office in 2005, Iranian President Mahmoud Ahmadinejad has expanded Iran's cooperation with many Latin American states, including Venezuela, Bolivia, Ecuador and Cuba.
Iran's strong and rapidly growing ties with Latin America, specially with Venezuela, have raised eyebrows in the US and its western allies since Tehran and Latin nations have forged an alliance against the imperialist and colonialist powers and are striving hard to reinvigorate their relations with the other independent countries which pursue a line of policy independent from the US.