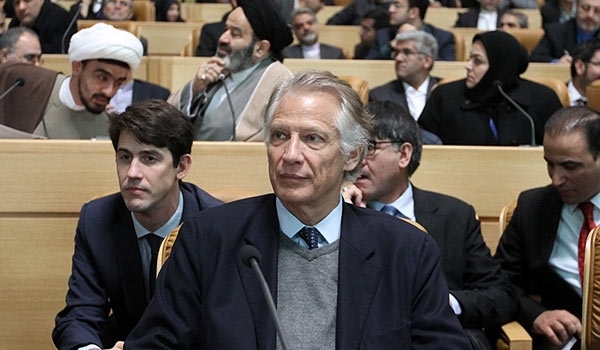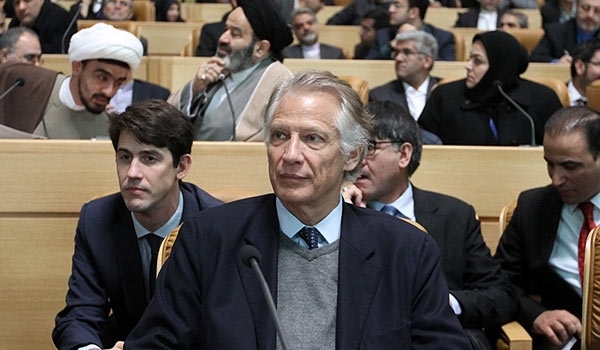 Former French Prime Minister Dominique De Villepin hailed Iran for its efforts to establish justice throughout the world.
"Iran is trying to establish justice in the world," De Villepin said, addressing the first World Against Extremism and Violence (WAVE) Conference in Tehran on Tuesday.
The former French prime minister reiterated the need for the removal of all the sanctions imposed against Iran, and said, "Iran's capabilities in different sectors should be utilized."
De Villepin pointed to the ongoing negotiations between Iran and the Group 5+1 (the US, Russia, China, France and Britain plus Germany), and said, "The negotiations are not just about (the number of Iran's) centrifuges, but they are related to power in the region as well."
He reiterated the need for unity of the regional countries in the campaign against the Islamic State of Iraq and the Levant (ISIL) Takfiri terrorists.
The former French prime minister underlined that the United Nations and the UN Security Council need to undergo structural reforms.
In October, De Villepin lashed out at certain western powers for their role in the creation and expansion of terrorist groups in the Middle-Eastern region, warning that the evil phenomenon would have dire repercussion for its creators.
Speaking in a meeting with Iranian Foreign Minister Mohammad Javad Zarif, the French veteran politician stressed that West has made many mistakes in expansion of radicalism in the Middle-East and now it is very worried about the presence of the western youth in battlefields fighting for terrorist groups, specially for the ISIL.
On September 25, 2013, President Rouhani proposed the WAVE initiative in his address to the UN General Assembly meeting in New York.
On December 18, 2013, the UN General Assembly overwhelmingly voted to approve Iran's proposal, which called on all nations across the globe to denounce violence and extremism.
President Rouhani proposed today that December 18 will be named as the International Day against Violence and Extremism after Iran's proposal was approved by the UN.
On December 20, 2013, Iran offered to host an international conference on UN resolution adopted based on President Rouhani's WAVE initiative which is now being held in Tehran with several world ministers' participation.