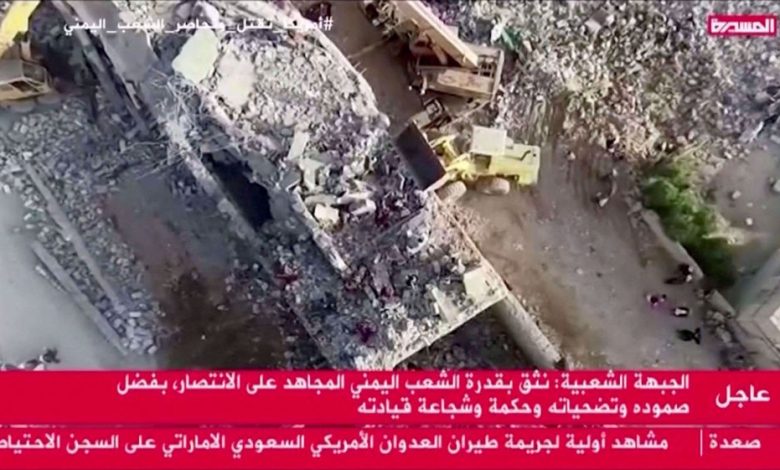 Former leader of the Labour Party of the United Kingdom has condemned the British government for arms flows to the Saudi Arabia, after dozens of people lost their lives in a Saudi-led aerial raid on Yemen's northwestern city of Sa'ada.
"Airstrikes in Yemen last night killed more than 60 people dead and caused a nationwide internet blackout," Jeremy Corbyn, who was Leader of the Opposition from 2015 to 2020, wrote in a post published on his Twitter page.
He added, "The UK government is complicit in these crimes through arming and training the Saudi-led war on Yemen. Arms sales to Saudi Arabia must end now."
"Arms sales to Saudi Arabia must end now," Corbyn pointed out.
Palestinians slam Saudi bloodshed
On Saturday, hundreds of Palestinians took to streets in the Gaza City to voice solidarity with the Yemeni nation and to denounce the bloody Saudi bombing of Sa'ada Central Prison in Yemen.
"The Yemen war is primarily aimed at serving the interests of the Zionist regime. All thinkers of the Muslim world must put an end to the onslaught as it yields benefits to enemies," Yousef al-Hasayneh, a leader of the Islamic Jihad leader, told Iran's Arabic-language al-Alam television news network during the rally.
Furthermore, Maher Mazhar of the Popular Front for the Liberation of Palestine (PFLP) said Saudi Arabia spends billions of dollars to purchase US-built military equipment, which utilize Israeli technology.
"Such armaments are developed and manufactured in order to bring Muslim nations to their knees. The treacherous Arab regimes would batter used their weapons and munitions to confront the Israeli enemy and defend al-Qaqsa Mosque and the Palestinian cause than to massacre innocent women, children and elderly people," he stressed.
Nael Abu Edah, a senior member of the Palestinian Mujahideen Movement, also said, "Gazans have taken part en masse in the demonstration to express support for their Yemeni brethren in the face of the Saudi-led coalition, which is outrageously killing ordinary citizens by means of a devastating war and is advancing US-Israeli agendas."
A correspondent for Yemen's al-Masirah television network reported on Sunday that the death toll from the Saudi airstrike against Sa'ada detention center has risen to 91, after two bodies were pulled out of the rubble.
UAE-backed mercenaries halt operations in northern Yemen
Meanwhile, the so-called Giants Brigades, Takfiri militants backed by the United Arab Emirates (UAE), have suspended their operations in northern Yemen after the spokesman for Yemeni Armed Forces warned of more retaliatory strikes against the Persian Gulf country.
A UAE-backed militant in Shabwah province, speaking on condition of anonymity, told Middle East Eye online news outlet that the mercenaries have halted their operations in Yemen's oil-producing Ma'rib province.
On January 10, dozens of UAE-sponsored militants were killed when Yemeni army soldiers and fighters from allied Popular Committees launched a missile strike against their position in the Yemeni province of Shabwah.
Informed sources, who preferred not to be named, told Yemen News Portal website that a massive explosion shook a military camp of the UAE-backed militants – better known by the nom de guerre the Giants – in the Nokhan area, which lies east of the provincial capital of Ataq.