World News
Four of trapped Thai schoolboys rescued from flooded cave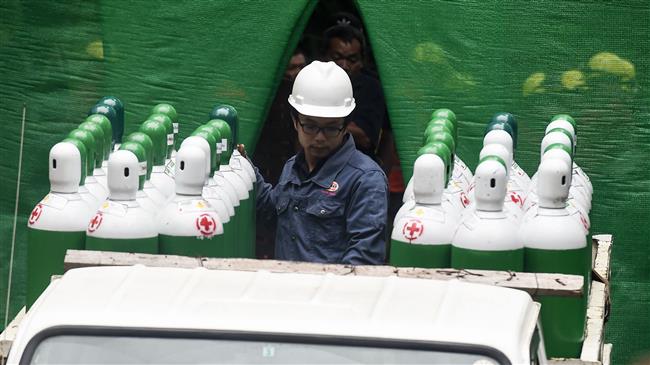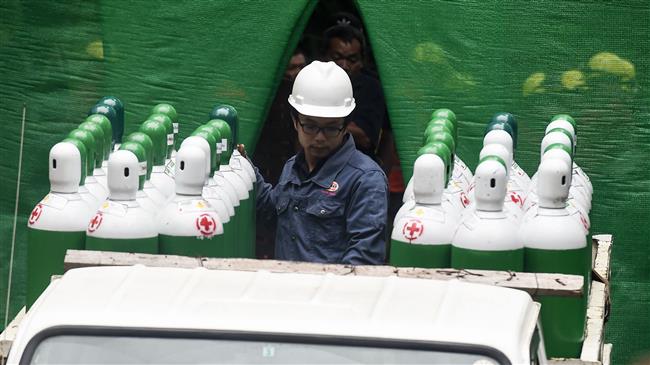 Rescuers working to save 12 schoolboys and their coach who have been trapped in a flooded cave north of Thailand say four of the children have exited the cave.
Narongsak Osottanakorn, head of the rescue mission, said Sunday that the four rescued boy had been transferred to a hospital in Chiang Rai, the provincial capital of the province with the same name where the Tham Luang Cave is located.
"Today we managed to rescue and sent back four children to Chiang Rai Prachanukrua Hospital safely," said Narongsak, adding, "We sent back four children all safely."
Earlier reports had cited officials as saying that six children been trapped underground with their 25-year-old coach for more than two weeks, been had been brought to safety. The boys, aged between 11 and 16, and their coach went missing after a soccer practice on June 23.
Sources said the rescue operation for the rest of the boys would continue on Monday. The operation involves 13 foreign divers and five members of Thailand's elite navy SEAL unit trying to bring the children through narrow, submerged passageways. A former Thai navy diver died Friday while swimming through the passageways. The boys trapped inside are weak swimmers.
Narongsak had earlier hailed the success of the operation, calling Sunday "the D-Day" of an operation which has been going on since last week, when British divers Richard Stanton and John Volanthen discovered the boys.
The rescue operation has been a cornerstone of Thailand's military-led government to appease the public ahead of a general election next year. A government spokesman said Prime Minister Prayuth Chan-ocha was planning to visit the cave on Monday.
Narongsak said rescuers had rehearsed the plan for several days, adding that they had also drained the water level in the cave considerably. He said, however, that the operation needed more speed as storms were expected in the coming weeks,
"If we wait and the rain comes in the next few days we will be tired again from pumping and our readiness would drop. If that's the case, then we have to reassess the situation," said Narongsak.
An army commander involved in the mission had said earlier that rescuing all those trapped would take three to four days.