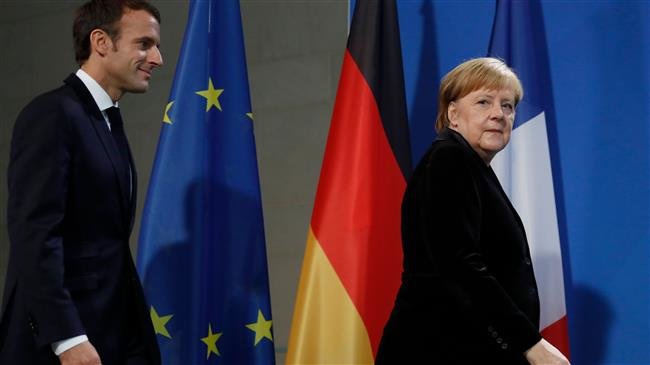 France and Germany will likely host the Special Vehicle Purpose (SPV), a special payment channel created by Europe as part of its efforts to keep trade flowing with Iran in defiance of US sanctions, senior diplomats told the Wall Street Journal.
The Monday report said the governments participating in the payment channel will directly manage the company (mechanism) in order to prevent the US from putting direct sanctions on it.
According to the diplomats, British officials are also mulling over joining France and Germany in order to rescue the European attempt to circumvent the US sanctions and salvage the Iran nuclear deal following the US' withdrawal in May.
The report said if France plays host to the SPV, Germany will take the helm, and vice versa.
According to the report, the mechanism is not finalized yet and finishing touches will be discussed on the sidelines of the 2018 G20 Buenos Aires summit, scheduled to begin on November 30.
The move comes after Luxembourg and Austria, under the US pressure, refused to host the SPV, with Luxembourg officials being warned that hosting the mechanism could damage the country's place as a major financial center hosting many international investment funds, European diplomats said.
The report was released during the visit of Iran's nuclear chief Ali Akbar Salehi to Brussels, Belgium, where he attended the third seminar on peaceful nuclear cooperation between Tehran and the European Union.
The European Union hosted the AEOI chief at the seminar aimed at showing the bloc's continuing support for the Joint Comprehensive Plan of Action.
Addressing the seminar, Salehi criticized the US administration's efforts to prevent the implementation of the 2015 deal through exerting pressure on other countries to make them pursue Washington's policies vis-a-vis the deal.
"This unconstructive US approach shows that this country, as a permanent member of the [United Nations] Security Council, is not committed to its international obligations," said Salehi, the head of the Atomic Energy Organization of Iran (AEOI).
Speaking to reporters on the sidelines of the seminar, the Iranian nuclear chief warned the European Union of "ominous" outcomes if it did not follow through with action to keep the economic benefits of the JCPOA alive.
"If words are not turned into deeds, then … it is very ominous, the situation would be unpredictable," Salehi said.
Iran's nuclear chief, however, said he believed that the 28-nation bloc was "doing its best" and was on its way to delivering on its promises.
Europe has been taking a range of measures to meet the Iranian demand for practical guarantees.
Iran and the European side have been discussing ways to conduct non-dollar trade in order to offset the US sanctions.
On September 24, Iran and its five partners released a joint statement announcing the setting up of a Special Purpose Vehicle (SPV) to facilitate continued trade with Iran, bypass the US financial system, and avoid any impact of America's secondary sanctions.