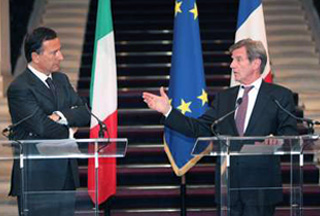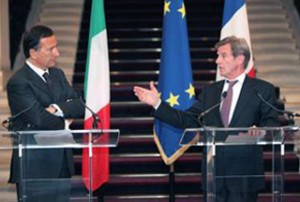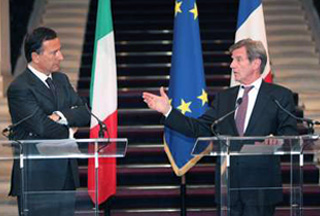 The French and Italian foreign ministers renew threats of sanctions against Tehran over its nuclear program, as their US allies try to rally support against Iran.
Bernard Kouchner made his familiar call for sanctions after a meeting with his Italian counterpart Franco Frattini in Paris on Tuesday.
The French minister said that Tehran could not avoid sanctions for long, because of what he called its failure to engage in meaningful negotiations.
"We will work, and are working in New York in the Security Council," he told the reporters.
Frattini also backed Kouchner's sanction rhetoric suggesting that such a measure would be effective in preventing others from using force against Tehran.
The two European foreign ministers made the remarks as US Secretary of State Hillary Clinton ended a Middle East visit, which focused on drumming Arab support against Tehran's nuclear program.
The US and its allies accuse Tehran of following a military agenda under its civilian nuclear program, despite contrary announcements made by the UN nuclear watchdog, the Pentagon's top intelligence official and the United States' leading spy agencies.
Under pressure from Washington the UN Security Council has already passed a number of resolutions against Iran with the aim of restricting its nuclear activities.
Iran, however, has disregarded the motions insisting the unfair privileges that a few states have at the UN Security Council has allowed them to ignore its legal rights.
Tehran says the resolutions passed against Iran's peaceful nuclear program are in direct contradiction with International Atomic Energy Agency regulations, which clearly state that all countries are entitled to enrich uranium as part of a peaceful program.
Iran argues that those very same privileges have also given the West the leverage to turn a blind eye to nuclear proliferation and other violations of international law carried out by Israel.