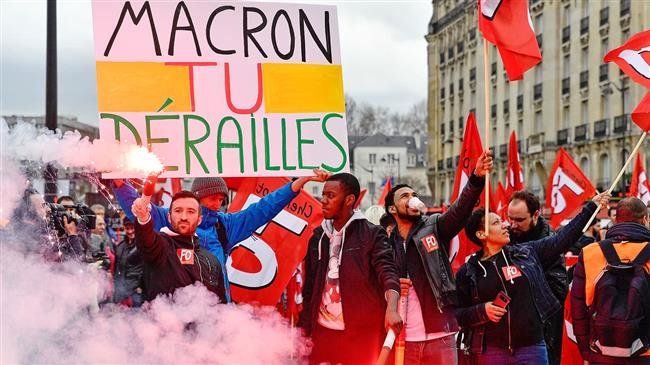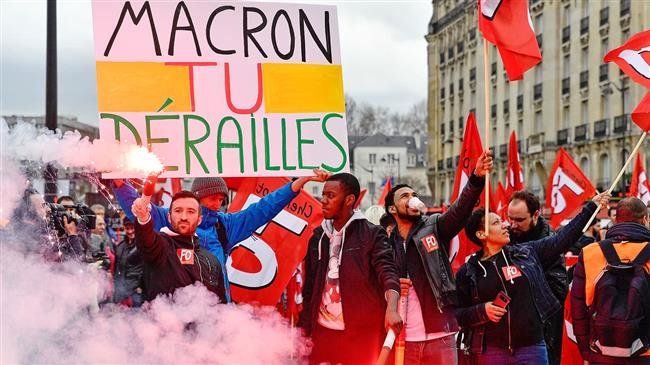 The French government says it will consider imposing a state of emergency in the wake of the country's worst civil unrest in more than a decade, which has caught authorities off guard. 
Two weeks of nationwide protests against fuel taxes and living costs by the "yellow vest" movement have shaken the county to its roots but President Emmanuel Macron remains defiant after calling the protesters "thugs".
Macron was to hold an emergency meeting with the prime minister and interior minister later on Sunday to discuss the riots, a day after accusing protesters of seeking chaos in the European country.
"We have to think about the measures that can be taken so that these incidents don't happen again," government spokesman Benjamin Griveaux said.
On Saturday, groups of young men with faces masked, some carrying metal bars and axes, rioted on the streets of central Paris, setting a dozen vehicles ablaze and torching buildings.
"I will always respect debate and I will always listen to opposition but I will never accept violence," Macron told a news conference at the G20 summit in Argentine's Buenos Aires.
"No cause justifies that authorities are attacked, that businesses are plundered, that passers-by or journalists are threatened, or that the Arc du Triomphe (monument) is defiled," he added.
Macron also stressed that France would bring to justice anyone responsible for the violence.
Scores of people have been injured and more than 200 others been arrested in clashes between protesters and police in the capital, Paris, alone.
"Those guilty of this violence don't want change, they don't want improvements, they want chaos. They betray the causes that they pretend to serve and which they manipulate," Macron said. "They will be identified and brought to justice for their actions."
French officials said at least 75,000 people had turned out across France for the so-called yellow vest protests on Saturday.
It was the third weekend in which people staged protests against the government's economic reforms resulting in fuel tax hikes. Previous protests had already ended with violence, with two people killed and over 600 injured.
On Saturday, riot police forces in Paris used tear gas to disperse demonstrators after they were targeted by protesters hurling rocks and other projectiles.
Authorities said at least 287 people were arrested in Paris and 110 others sustained injuries, including 17 of the 5,000 police officers mobilized during the protests.
'Specialists in destruction'
The French Interior Ministry said nearly 190 fires had been put out and six buildings had been set alight during the latest violence in the capital.
Interior Minister Christophe Castaner attributed the violence to "specialists in sowing conflict, specialists in destruction."
The protests first erupted last month in rural France among citizens who said they could not afford higher fuel taxes. The movement has since transformed into a broader rebuke of Macron's policies.
'Protesters have reason to be angry'
In an interview with Press TV on Sunday, American political analyst Frank Emspak said French protesters were angry because Macron was cutting public spending and increasing taxes.
"People living in rural areas find their rail service disappearing, the libraries closing, the hospitals closing, the post office closing; and yet, their taxes are going up and their services are going down," Emspak said.
"Now Macron says, 'We have to raise the fuel tax in order to do the ecology right,' while at the same time the country has pursued policies that are in the exact wrong way that is reducing public services," he said.
Emspak said protests had been going on peacefully since August but had failed to bring about change. "If you don't have a mechanism to change, then this is what happens," he said, referring to the violence.
Political analyst Frank Emspak says protesters are angry because Macron is cutting public services and increasing taxes.
During Saturday rallies, French demonstrators in small urban and rural areas also blocked roads, closed motorway toll booths, and walled up the entrance to tax offices.
Attempts by the government to negotiate with the grassroots movement have failed as representatives insist on public talks broadcast on TV.
The French president has vowed to slow the rate of increase in fuel taxes even if international oil prices rise too rapidly but only after a tax hike due in January.
Mushrooming in Europe?
Meanwhile, in Belgium, police fired teargas canisters at similar "yellow vest" protesters and deployed water cannons to push back the demonstrators condemning the rising cost of living in Brussels on Friday.
The reportedly unauthorized protest turned violent when protesters overturned car and started throwing objects at police.
The Belgian prime minster has pushed ahead with an unpopular reform plan under which he will raise the retirement age to 67 from the current 65 and the retiring workers will see their pensions reduced even further.