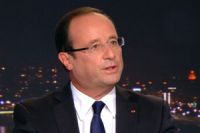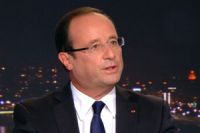 ($68 billion) in public spending and abolish 30 billion euros ($41 billion) worth of payroll taxes by 2017.
At a news conference in Paris on Tuesday, Hollande said he is "entering into battle" to fix the economy, and promised the cuts in public spending to be enforced over the years 2015-2017.
The cuts run contrary to the anti-austerity platform that Hollande rode to the presidency in 2012.
"If France wants to keep its influence in the world, if France wants to weigh on the course of Europe, if it wants to keep control of its destiny, then it should imperatively restore its economic force," he said.
France's budget in the current year includes 14.8 billion euros ($20.23 billion) in spending cuts and 379.9 billion euros ($519.4 billion) in overall spending.
The economy suffered two recessions in recent years, while growth was calculated at 0.2 percent in 2013.
A year-and a-half into his term, Hollande's popularity ratings have plummeted, largely due to his failure to lower the 11-percent unemployment rate and the flagging economy.
A recent poll conducted by France's OpinionWay showed that some 82 percent of the French are not satisfied with Hollande's handling of the economic and social issues.