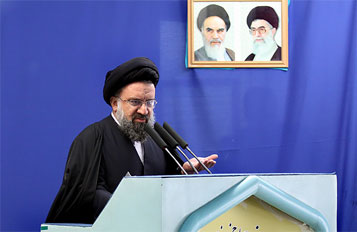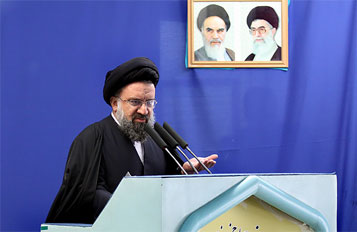 Provisional Friday prayers leader of Tehran Ayatollah Ahmad Khatami said in his second Friday prayers sermon that seditionists used cheating as a means to stage riots.
Ayatollah Khatami said the seditionists tried to disrespect the Leader of Islamic Revolution.
Lauding mass public turn out in the pro-Islamic Revolution rallies on December 30, 2009, Ayatollah Khatami said the rallies marked the nation's solidarity with the Islamic Republic establishment and the leadership and disavowal of the enemies.
The December 30 epic nullified all plots of the seditionists and foil the sedition plot, Ayatollah Khatami added.
The post-election seditionists brought the public to streets last year with the motto of vote rigging on the vain hope of destabilizing the Islamic Republic establishment.
The media hue and cry that enemies, the European Union, the forged Zionist regime and the UK raised against the Iranian nation after the 10th presidential elections was unprecedented in its kind over the past 31 years, said Ayatollah Khatami.
On the government subsidy cut plan, Ayatollah Khatami said it has initially worked well and will hopefully be successful to the end.
He urged government to ensure the plan would not disfavor the vulnerable and the low-income class.
Elsewhere in his sermon, Ayatollah Khatami urged Pakistani government to be careful their country would not turn into a safe haven for terrorists and from where such terrorists would find their way to Islamic land of Iran.
He asked Islamabad to arrest and hand over the terrorists to Iran.
He touched on flood in Pakistan, urging Iranian nation to continue rushing help to the flood-stricken people of Pakistan.