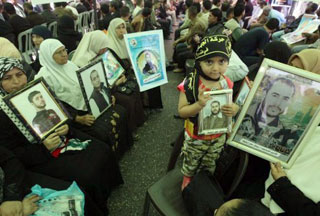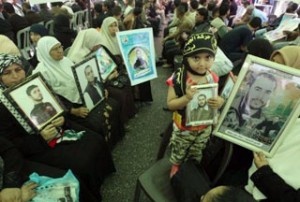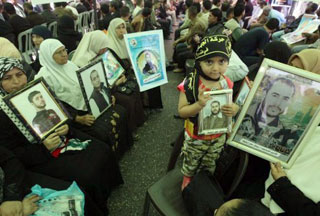 Hamas and Fatah closed ranks to commemorate Palestinian Prisoners' Day on Saturday and to demand the release of all Palestinian prisoners from Israeli jails.
Members of both groups, joined by representatives of smaller groups and relatives of prisoners as well as international activists, staged a sit-down protest and a 24-hour fast outside the Gaza City offices of the Red Cross.
Hamas Prime Minister Ismail Haniya and Fatah representative Raafat Hamdoun paid a brief visit to the protesters. The two called for a Palestinian reconciliation and said that all Palestinians must fight Israeli occupation "by any means" and pressure Israel to free the thousands of detainees in its prisons.
In Ramallah and East Jerusalem al-Quds, several thousand people marched through the streets, carrying pictures of their imprisoned relatives and of Fatah's Marwan Barghuti.
"There cannot be a solution or peace in our region without a final resolution of the prisoner issue and the release of all Palestinian detainees in Israeli prisons," acting Palestinian Authority chief Mahmoud Abbas said in a statement issued to commemorate the annual Prisoners' Day.
Over 7,000 Palestinians, including 270 under the age of 18, are currently being held in Israeli prisons. Of those, 264 are under administrative detention, meaning they are being held without trial, according to the Palestinian Central Bureau of Statistics.
Since Israel seized the West Bank and other Arab territories in the Six-Day War of 1967, it has detained over 760,000 Palestinians.