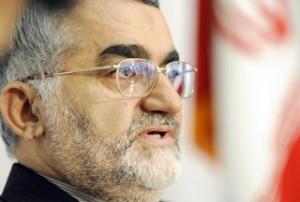 Russia's failure to deliver the S-300 defense systems to Iran will be to Moscow's own loss as Iran has already manufactured all military equipment banned by the West.
Chairman of Iran's parliamentary (Majlis) Committee on National Security and Foreign Policy Alaeddin Boroujerdi said Iran has developed all military equipment which has been banned under Western sanctions.
The remark was made in response to the Russian Prime Minister Vladimir Putin's statement about freezing the delivery of the S-300 missile defense systems.
"Iran's missile capability is reflective of the country's military abilities," Boroujerdi said.
Iran signed a contract with Russia in December 2005 to purchase at least five S-300 surface-to-air defense missile systems. However, Russia, under fierece pressure from Israel and the US, has repeatedly delayed the delivery of the sophisticated defense system.