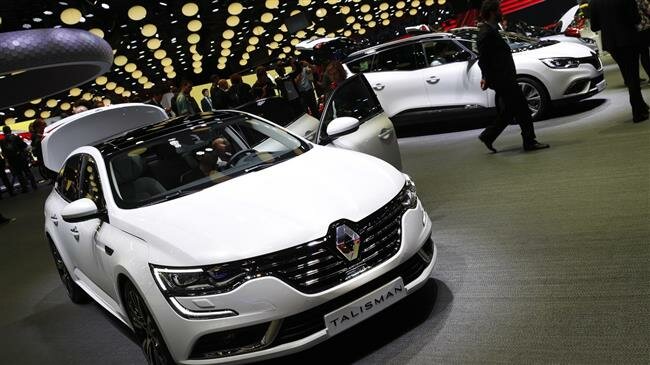 French car maker Renault has announced a 4.8-percent drop in its first-quarter revenues following the company's withdrawal from Iran's lucrative market in 2018.
The automaker announced on Friday that its revenue declined to 12.527 billion euros for January-March from 13.155 billion in the previous year while the number of cars sold also fell by 5.6 percent to 908,348 in the quarter.
Besides losing Iranian customers, the company blamed weakness in some emerging markets as well as currency fluctuations around the world as other reasons for the loss.
The company's Iran pullout resulted in a 31 percent decline for its Africa, Middle East and India sales region, while its European sales volume climbed by two percent.
Renault's sales were also hit by the collapse of markets in Argentina and Turkey, which both dropped by almost 50 percent.
The development came just days after Renault's alliance partner Nissan downgraded its profit expectations for the second time this year after weak performance in the US and China.
Renault does not disclose profits when reporting first-quarter results, but the group reaffirmed on Friday its guidance for the year to reach a six-percent margin, increase revenues at constant exchange rates and generate positive cash.
The company reported its first loss since pulling out of Iran in July, just as the US was about to impose its first round of sanctions on the Islamic Republic following President Donald Trump's withdrawal from the 2015 nuclear deal between Tehran and six world powers.
Last year, Renault suffered a six-percent drop in third-quarter revenue which saw earnings fall to 11.48 billion euros, according to its official statements.
Much of the downturn came from decline in the automotive division which fell by a steeper 8.4 percent at 10.06 billion euros.
The slump contrasted with Renault's July report of record revenue of 9.8 percent in the first half, during which sales in the Iranian market more than doubled to 68,365 vehicles.
Renault's show of gallantry came to an abrupt end when it went back on its pledge in June to maintain a presence in Iran despite US sanctions.
"We have a future in Iran. We will not abandon it," CEO Carlos Ghosn said, outlining plans for the car maker which counted 160,000 cars sold in Iran in 2017 out of its total of 3.76 million.
Renault and its French rival PSA Group were among the first European companies which rushed to Iran to tap into a pent-up demand for new automobiles after sanctions were lifted as a result of the nuclear deal in 2016.
Europe's trade with Iran surged to more than $10 billion back then. Renault signed an agreement last year to boost its production in Iran by 75 percent but it never started manufacturing vehicles or making investments.
Following the re-imposition of unilateral sanctions, the PSA Group, which makes Peugeot and Citroen cars, also suspended its plans in the country as did French energy companies Total and Engie as well as plane maker Airbus, which had won an order for 100 planes.
Both Renault and Peugeot withdrew from Iran under similar conditions in 2012, when the country came under US and European sanctions.