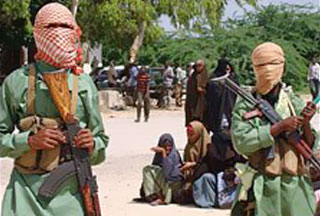 Two French military personnel held hostage by Somali al-Shabaab fighters will be tried under Sharia law, says the group's spokesman.
According to an unnamed spokesman, the two face espionage and conspiracy charges and if found guilty, they will be handed death sentences.
"They would be tried under Sharia law for espionage and conspiracy against Islam and assisting the apostate government and would be punished accordingly," the spokesman told journalists in Mogadishu on Saturday.
The two French citizens were on an official mission in the Somali capital to train Somali intelligence services when they were snatched from their hotel rooms on Tuesday by 10-armed men who then handed them over to Al-Shabaab.
The group has not set a date for the trial and did not disclose the place where the trials would be held.
Al-Shabaab controls much of southern and central Somalia and is determined to overthrow the UN-backed government, which controls little more than a few blocks of Mogadishu.