Syria
French journalists describe tortures by ISIL terrorists in Syria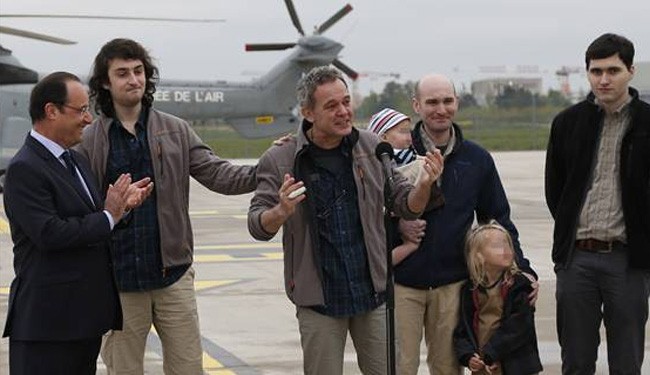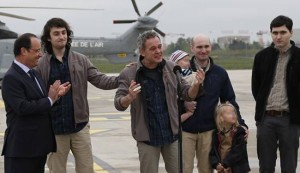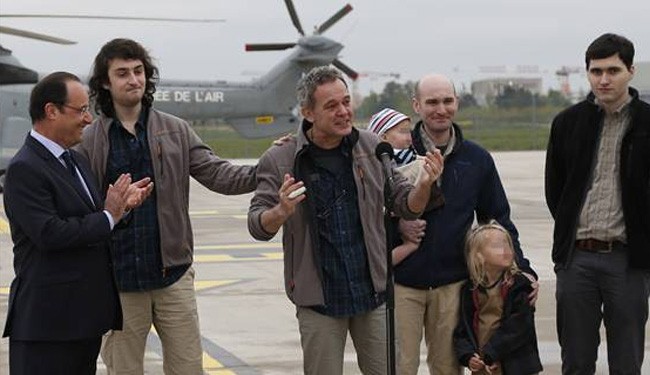 Mock executions, hunger, thirst, cold, beatings a makeshift chess game, and a "surreal" snowball fight with their jailers.
Details are starting to trickle through of the ordeal experienced by the four French journalists who returned home Sunday after being held hostage for 10 months by the Islamic State of Iraq and the Levant (ISIL), an Al-Qaeda splinter group, The Daily Star reported.
But the journalists were reluctant to give too much away for fear of jeopardizing the safety of those who remain in captivity in the war-torn country, including US journalist James Foley, a freelancer who had been working for AFP and other media when he went missing in November 2012.
According to Didier Francois, 53, an experienced and highly respected war reporter for Europe 1 radio who was kidnapped on June 6 north of Aleppo along with 23-year-old photographer Edouard Elias, the first few days were particularly tough.
"They put you in the mood straight away. The pressure is very, very, very strong. Four days without eating or drinking. On the fourth day without drinking, you start feeling really awful, handcuffed to a radiator and being beaten," he told Europe 1 radio Monday. "It's … to break any will to resist."
Francois and Elias were stopped by armed and masked men after they crossed the border into Syria from Turkey.
"A Kalashnikov to the head, handcuffed in the back. … In English, they told us 'Don't worry, we will check everything, this can be settled in one hour' … [as is] typical," Francois said.
Then "we find ourselves in T-shirts, without belts or shoes, without our phones, with nothing. And with something on the head."
Nicolas Henin, 37, was captured several weeks later in Raqqa, as was Pierre Torres, a 29-year-old photographer. The four were held together after having initially been detained separately and appeared thin when they were welcomed home Sunday in an emotional reunion with their loved ones at an air base near Paris.
Henin said in an interview with Arte television late Sunday that hunger had been tough to endure, as was the cold.
Francois said his jailers staged mock executions several times, placing guns on his temple or forehead.
But the journalists refused to reveal more on any further physical violence they may have been subjected to.
For his part, Henin attempted to escape on his third day of captivity, and managed to run for 10 or so kilometers at night before being caught by his abductors.
The journalists were regularly moved around, and Henin counted around 10 different locations, in war zones and sometimes near the front line.
To pass the time, Elias and Francois made a makeshift game of chess on a box of cheese, with nail clippers and a pen they kept hidden in the jacket and socks of the photographer.
The two also gave each other photography and scuba diving "lessons," and tried to remember key dates in French history.
Contact with their jailers varied between "difficult phases" and "phases of total relaxation," Francois said.
They knew next-to-nothing about what was happening in the outside world, apart from the death of Nelson Mandela, which their jailers announced.
He also described a "surreal moment" when the guards entered their cell pretending to bring food and instead, "they had brought snow and they had a snowball fight with us."
The four were eventually brought by car to the Turkish border, which they crossed on foot, and were picked up by Turkish soldiers on the other side overnight Friday to Saturday.