French police clash with protesters after military parade
French police have used tear gas to break up crowds of protesters in a tense standoff on the Champs Elysees Avenue in central Paris.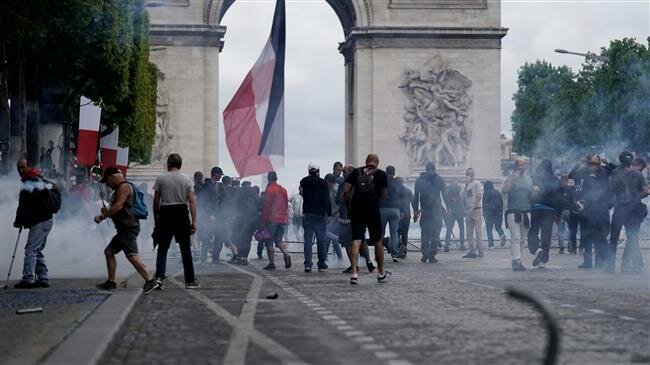 A few hundred Yellow Vest protesters poured onto the avenue on Sunday soon after the annual Bastille Day military parade — presided by President Emmanuel Macron alongside other European leaders — was over and the boulevard was reopened to traffic.
The protestors, some of them hooded, chanted anti-government slogans, tore down security barriers installed for the parade, hurled objects at police, and torched garbage cans.
Macron booed at Bastille Day celebrations in ParisFrance's major national holiday didn't proceed smoothly for President Emmanuel Macron, as dozens of protesters booed him during Bastille Day parade in Paris.
There were no immediate reports of any injuries or arrests during the clashes. However, AFP cited authorities in Paris as saying that before the eruption of the clashes, 152 people had been arrested.
The report said that two prominent members of the movement, Jerome Rodrigues and Maxime Nicolle, had both been detained by the police.
The Yellow Vest protests began in November last year with public anger against fuel tax hikes. Those were subsequently scrapped but the protests have since tuned into a broader anti-government movement.
This year's Bastille Day marks the 230th anniversary of the storming of the Bastille prison during the French Revolution and commemorates the overthrow of the monarchy by a mass uprising whose waves rocked Europe.